WOOHOO, Pi Day was a resounding success! We decided to order pizza rather than make it, as making the dough from scratch required more prep time than we were prepared to offer, but the pie making was lots of fun! I originally wanted to do my famous Apricot and Ginger Pie, but as apricots are a summer fruit, Whole Foods didn't have any. Boo. Instead, I chose to go with a Pear and Cheese Pie, as pear was one of the few tasty-looking fruits available. Also, it's reminiscent of Chuck's Pear and Gruyere Pie on Pushing Daisies.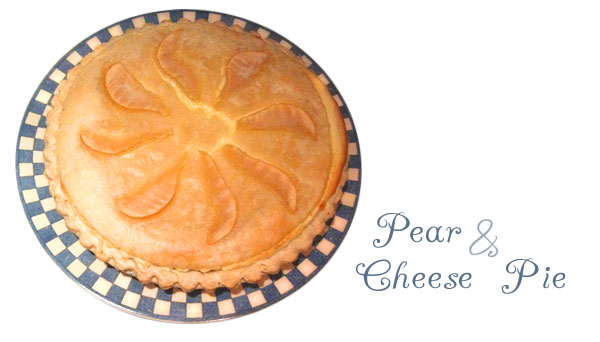 As promised, as we made the pie, we had the pilot of Pushing Daisies on in the background. It turns out Kristin hadn't seen the pilot, so she kept sneaking glances as she zested the lemon and I chopped the pear into mildly obsessive-compulsive slivers. So ridiculously cute!
We each ate a slice (yuuuuuuuuuuuummmm!), and Kristin set aside a slice to take home, then I gave the rest to my neighbors.
HAPPY PI DAY TO ALL, AND TO ALL A GOOD BITE!