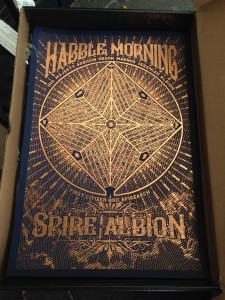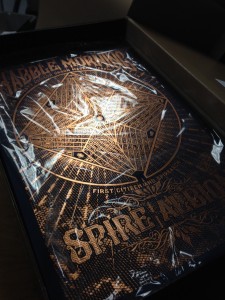 What's steampunk without a little copper?  Check out the lush 13″x19″ copper foil posters of my Habble Morning art for Jim Butcher's The Aeronaut's Windlass, now for sale in signed and unsigned versions!
I couldn't be happier with the work of Leiman and his team at Nonstop Printing, located in Los Angeles at Santa Monica and Vine.  Leiman actually asked for permission to hang a copy in the store to show their customers what they're capable of, and I was only too happy to comply!
After seeing these stunning results, I'm going to try to have posters of Habble Landing and Predator ready for Jim's book tour in early October.  I'll be attending the signing in Houston and possibly also Santa Monica, and I'll be launching a preorder soon.