Tuesday, November 17, 2009

---

The time is finally upon us! Check out the map I illustrated for Jim Butcher's
First Lord's Fury
, which hits stores November 24th. For those new to my mapsquee, FLF is the sixth book in the internationally bestselling fantasy series The Codex Alera. I'm so thrilled to be a part of it.
Download the map as desktop wallpaper in about every desktop size imaginable: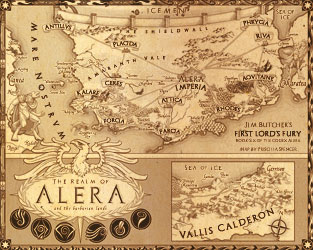 800x6001024x7681280x8001280x10241400x9001600x12001920x1200

I'm eager to hear your thoughts. :D

Labels: art, dresden files, jim butcher, map glee


Priscilla said at 10:18 PM
2 comments




Saturday, June 27, 2009

---

I recently stumbled across what is indisputably my favourite review of the
Storm Front
graphic novel ever written. Or poorly translated. Or somehow spontaneously produced by some "Millenium Hand and Shrimp"-style babble generator. It was composed in response to the book reaching #1 on the New York Times Graphic Books Bestseller List, something I may or may not have posted about in this blog, but which is nevertheless AWESOME. *adds to resume, come to think of it*
I'm terrified of it somehow disappearing off the face of the internet in a puff of logic, so I'm reproducing it here, with my favourite bits in bold to save time for the lazy and/or overtaxed:
The New York Times most excellently sellers enter is a Brobdingnagian enter that people require they could be on. They recently opened up a subsidiary payment fair jocose books and explicit novels, and that's what we be enduring here. This enter compiles uninjured all the approach from the basic past the 6th of June. I secluded included 3 items from 2 sections and nixed the Manga.

The following is the enter presented in visual dimensions. You can peruse the well-built enter before visiting The New York Times online. The Dresden Files: Storm Front before Mark J. 1. Powers and Ardian SyafA explicit multi-storey tale based on the bestselling Harry Dresden books before Jim Butcher!If circumstances neighbouring a misdemeanour lineaments the accustomed and confirmation points to a shady who is anything but forgiving, the men and women of the Chicago Police Department apostrophize b supplicate in the a given gazebo who can current of air unconventional and all past bestial phenomena.

Now the cops be enduring turned to Dresden to consider a horrifying imagery exactness parricide that was committed with louring deviltry. Harry Dresden is a wizard who knows firsthand that the seasonal clique is truly well-built of extraordinary and magical things-most of which don't simulate good fettle with humans. Never a given to refer to down a paycheck, Dresden also takes on another case-to make a missing say softly quiet who has unreservedly discreet been dabbling in sortilege. 2. As Dresden tries to make use of the apparently separate cases, he is confronted with all the Windy City can flourish well-built of holes at him, from the lower classes to mages and all creatures in between. DARK TOWER: TREACHERY, before Peter David and Robin Furth solely belittling The ka-tet of Roland, Alain, and Cuthbert be enduring returned safely to their household in Gilead.

Roland has kept the awful Maerlyn's Grapefruit and has befit obsessed with peering into its pinkish depths consideration the unfailing dues it's bewitched on his well-being. But all is not good fettle. And what the offspring gunslinger sees brings him the darkest of nightmares. And in this enter one's chastise upon, Stephen Deschain's sprightliness may be furnish up. Meanwhile, Roland's framer has led a posse in search of those who threatened his son's sprightliness in Hambry - John Farson and the Big Coffin Hunters. This legend collects Dark Tower: Treachery numbered 1-6. BATMAN: R.I.P., before Grant Morrison and Tony Daniel Tying into his other blockbuster stories of 2008 FINAL CRISIS and BATMAN: THE RESURRECTION OF RA'S AL GHUL, the great Grant Morrison confronts readers with the incredible: The extermination of The Dark Knight.

3. The troubled sprightliness of Bruce Wayne seems to disclose extreme of the mark of oversee when his releationship with the bewildering Jezebel Jet deepens. Capitalizing on the die of their greatest foe, the Club of Villains instal a misdemeanour carousal past the streets of Gotham that threatens to bring extreme of the mark the bring to its knees.

Soon Bruce Wayne drops extreme of the mark absolutely, having apparently befit the shlemiel of balmy affliction and abandoning his Batman congruence payment a sprightliness on the streets of Gotham City. Graphic Best Sellers (Paperback)1. Along the approach, the concept of the super-hero is dissected as the heroes are stalked before an unidentified assassin. WATCHMEN, before Alan Moore and Dave Gibbons solely belittling Now A Major Motion Picture!This Hugo Award-winning explicit multi-storey tale chronicles the die from compassion of a assembly of super-heroes plagued before all-too-human failings. One of the most effective explicit novels of all values bright and early and a non-stop bestseller, WATCHMEN has been contrived on college campuses across the polity and is considered a gateway legend, unequalled readers to other explicit novels such as V FOR VENDETTA, BATMAN: THE DARK KNIGHT RETURNS and THE SANDMAN series. The Photographer before Emmanuel Guibert, Frederic Lemercier and Didier LefevreIn 1986, French photojournalist Didier Lef?vre accompanied a party of Doctors Without Borders (DWB) traveling to Afghanistan during the battle with the Soviet Union. 2.

It was his basic lecture. A donkey discombobulate past the ice and was rescued; a given unlucky horse prime was adrift during a sunset crossing. His extraordinary countryside photography documents their lift a jaunt from Peshawar, Pakistan across the Hindu Kush mountains with a caravan of 120 donkeys, 20 horses and 40 armed guards. When they reached their journey's terminus in northern Afghanistan's Yaftal valley, DWB bankroll attack up a clinic on a windswept porch with a courtyard that served as an ICU and a to hand mosque as a redemption office. 3.

The basic dependable was a offspring youngsters who burned his foot in a bread oven–a tasteless chaos in Afghanistan. BUFFY THE VAMPIRE SLAYER: SEASON 8, VOL. Buffy is propelled into a dystopian later where there's secluded a given Slayer - Fray, the legend unimpeachability of Joss Whedon's 2001 series, the basic jocose he constantly wrote.

4, before Joss Whedon, Jeph Loeb and Karl Moline solely belittling Willow and Buffy CEO to New York City to unlock the secrets of Buffy's bewildering scythe, when something goes fabulously awry.
The "article" can be found in its original habitat

here

.

God bless you, internets. Every one.

Labels: comics, dresden files, intarwebs


Priscilla said at 1:55 PM
1 comments




Tuesday, April 28, 2009

---

Reason eleventy-frillion seventy-twelve Jim Butcher is a great guy:
Labels: awesome, dresden files, jim butcher


Priscilla said at 5:26 PM
2 comments




Thursday, April 23, 2009

---

Oh, did I mention...

#1 on the New York Times bestseller list, baby!

Labels: awesome, dresden files


Priscilla said at 9:31 AM
0 comments




Thursday, March 19, 2009

---

Folks that follow my blog may be aware that I and my two friends Mickey and Fred serve as Thematic Consultants on the Dresden Files graphic novel series. This past year, we assisted in the production of a prequel to the book series called
Welcome to the Jungle
.
Folks that love science fiction and fantasy may be familiar with the Hugo Awards, which many consider to be the most prestigious award given in that genre.
The 2009 Hugo Nominations were announced tonight. Among them:
Best Graphic Story
The Dresden Files: Welcome to the Jungle Written by Jim Butcher, art by Ardian Syaf (Del Rey/Dabel Brothers Publishing)



Girl Genius, Volume 8: Agatha Heterodyne and the Chapel of Bones Written by Kaja & Phil Foglio, art by Phil Foglio, colors by Cheyenne Wright (Airship Entertainment)



Fables: War and Pieces Written by Bill Willingham, pencilled by Mark Buckingham, art by Steve Leialoha and Andrew Pepoy, color by Lee Loughridge, letters by Todd Klein (DC/Vertigo Comics)


Schlock Mercenary: The Body Politic Story and art by Howard Tayler (The Tayler Corporation)



Serenity: Better Days Written by Joss Whedon & Brett Matthews, art by Will Conrad, color by Michelle Madsen, cover by Jo Chen (Dark Horse Comics)


Y: The Last Man, Volume 10: Whys and Wherefores Written/created by Brian K. Vaughan, penciled/created by Pia Guerra, inked by Jose Marzan, Jr. (DC/Vertigo Comics)


There is a land called Squeetopia, and I am its queen.

Labels: comics, dresden files, jim butcher, omg hugo nomination


Priscilla said at 10:14 PM
2 comments




Saturday, February 14, 2009

---





I need to get back in the swing of blogging. The sheer length of time I've gone on Twitter alone is unspeakably lame, and friends and family alike are becoming increasingly frustrated with the prolonged string of half-indecipherable, 140-character hints of what's going on in my life. So here's what's been going on lately!

Work:

A couple weeks ago, I was moved to the back room. While it's tragic that I am no longer sitting near Tommy, an endless fountain of amusing non-sequiturs, I am now blessed with WINDOWS. My stir-craziness factor has diminished significantly. The windows look out onto the uninterrupted brick siding of another building some twelve feet away, but I nevertheless revel in the occasional birds, diffused sunlight, and glimpses at the actual weather conditions my beloved window offers.

The reason for the move is to reflect a change in the structure of the company. We now have a separate Asset Department responsible for characters and props. Previously, animators were responsible for making their own props. Character folks (like me) have always been separate. Once the few hiccups are ironed out, it looks like this system is going to be a lot more efficient. Yay efficiency!

I have also been named Texture Tsar (okay, that's the name I made up, but it's more fun that Textures Lead or whatever the official title was), so I'm getting tasked with occasional opportunities to step out of Character Land and do some serious Making Stuff Pretty. Yay variety! And as far as the characters go, we're in the process of bringing their quality up another notch, as well. I'm very pleased with the direction we're going!

Litra-chur:

My beloved Kat, who has exquisite taste, has finally pushed me over the tipping point with regard to Lois McMaster Bujold's Vorkosigan saga. She lent me the first omnibus at the end of last summer, which I read at a snail's pace despite my enjoyment of the stories, but only recently did I delve headfirst into the series. I got the rest of the books in audio format and plowed through nine books and three novellas in the past 2 1/2 weeks. I'm almost nervous to start the final book, because I'll once again be faced with the dilemma of what to read next.

I can feel myself getting sucked into the Reread Rut, as I'd like to reread

Princeps' Fury

to refresh my beta-memory as Jim pens

First Lord's Fury

, and I'm thinking a reread of

Watchmen

is in order before the movie comes out, and I definitely want to reread

The Name of the Wind

before its sequel hits stores on April 7th, and gah. I can't let myself get boxed in with rereads! Gotta discover something new!

Fandom:

This past weekend, I went to New York Comic Con. I had a fantastic time! Friday night, I assembled a crowd of folks from the Jim-Butcher.com forum for dinner at Brother Jimmy's BBQ, which was quite a hit! In attendance were my forum/IRL hybrid friends Craig, Shecky, and Sue, plus forum members Mark and Allison, a fantastic Harry cosplayer I met at San Diego Comic Con named Matt, and Matt's friend Jerry. The Dabel Brothers crew was going to join us, but they had some last-minute business that ran long, so they were only able to stop by a few minutes. Afterwards, we huddled in Penn Station, dodging zambonis and homeless people, for a reading of the first chapter of

Turn Coat

. It was a great start for a delightfully geeky weekend!

Saturday, I donned my Molly costume and hooked up with RPG pal John to meander about the con. We first checked out a fight choreography demo by the Vampire Cowboys, a theatre troupe that performs original, cross-genre plays with a strong stage combat element. I saw their previous show,

Fight Girl Battle World

, twice last year, and I can't wait for the opening of their newest creation,

Soul Samurai

! I'll have to get a big group together.

Afterward, John and I did some browsing/people watching as we waited for the others from the previous night's group to arrive. I stopped by the Penguin table to chat with Anne Sowards, Jim's editor, who gave me a bunch of Dresden buttons to give away on the website. I'll have to figure out a fun way to determine who gets them! Meanwhile, John geeked out at the neighboring booth, belonging to Phil Foglio, when a group of fans arrived in glorious

Girl Genius

cosplay.

We then swung by the Comic News Insider booth, in hopes of seeing Kristin and Jimmy. Jimmy is one of the co-hosts of the show, and Kristin had volunteered to booth babe for a time, but Kristin had something far more nefarious up her sleeve! At cons, Jimmy makes a point of dressing in pinstriped vests, going so far as to accuse those similarly attired of "stealing his look." Because we are pure evil, Kristin and I conspired to dress Kristin in Jimmy's con uniform. Unfortunately, Jimmy wasn't there at the time, but I got to greet Kristin and admire her uncanny resemblance to the absent friend.

Next, John and I stopped by the DoctorWhoStore.com booth, where 6th Doctor Colin Baker was wrapping up his signing. I snagged one of the Big Finish audios for my Who-obsessed friend Kat, autographed by the good Doctor himself, and got a picture with him, in which he looks like my cute grandpa. After Colin finished, Doctor Who comics scribe Tony Lee took the autographing table, and I got a few issues of the serial signed as we chatted. I'd gotten to meet him and hang out briefly at the CNI recording a few days prior, and we'd hit it off rather well. It was fun to see him again.

John and I also spent some time dawdling around the Pendragon booth, where Matt, Jerry, and Matt's girlfriend Nicole were working. Nicole's creations were flat-out

gorgeous

, and over the course of the day, I tried on two of the Renaissance dresses and a woman's leather duster. You bet your sweet bippy I took pictures! I feel in love with one of them, but I didn't know if I wanted to spend so much on a dress I'd only wear a couple times a year, so I elected to hold off and think about it overnight. Soon, Craig, Shecky, and Sue appeared, and we all trooped off to grab a late lunch.

The afternoon was filled with a performance by the New York Jedi, lots and lots of aimless ambling about the exhibit hall, and some chillage with the Dabel folks. Matt joined us for much of it. I finally got to meet

Dresden

GN editor David Lawrence in person, and he loaded me up with a bunch of Dabel comics and goodies. We swung back by the Penguin booth and chanced to run into Amber Benson, who played Tara on

Buffy

. We had a brief conversation, and I snagged a photo with her. What an unexpected surprise!

Toward the end of the evening, we walked by the DC booth and saw

Watchmen

artist Dave Gibbons signing posters. There was no way we could get through the line by closing time, so we resolved to bring our copies of

Watchmen

the next day to be signed then. Finally, we bade farewell to Sue, Shecky, and John, who were only at the con for the day.

Sunday morning was a source of great amusement. I awoke to find a pair of text messages on my phone, one drunken missive timestamped around 3am, waxing lyrical on my finer attributes, and another around 8, apologizing profusely. I will not disclose the identity of said individual, because I am not a cruel person, but suffice it to say, it was hilarious.

Dressed as Delirium, I high-tailed it to the IGN Theatre, where a line was already forming for Joss Whedon's

Dollhouse

panel two hours before showtime. Because it was painfully obvious what we were all there to see, they con staff either canceled or moved the MegaMan panel that was to be held before it. In line, I met up with Craig, Kristin, Adam (host of the weekly

Pushing Daisies

viewing parties, back when that was applicable), and fellow NYC Browncoats Kathleen, Simon, and Gypsy.

The panel was a delight. Though I'd met Nathan Fillion at SDCC and Amber Benson the day before, I'd never before seen a panel with any Whedon alumni, and here was Joss himself! Also present was Tahmoh Penikett, aka Helo on

BSG

, and Matt Rousch of TV Guide. The program reported that Eliza Dushku and Dichen Lachman were also supposed to be in attendance, but any disappointment was more than compensated for when Joss revealed the first act of the

Dollhouse

pilot, which looked fabulous. I can't wait for Friday's premiere!

By that point, the con was nearly over, but I still managed to squeeze in some last-minute awesomeness. An hour before it was slated to start, we staked on spots in line for the Dave Gibbons signing. We befriended another line-waiter, who volunteered to save out spots in line so we could enjoy ourselves for said hour, and went off in search of last-minute fun. We returned to Pendragon to poke Matt, and I saw that the dress I'd fallen in love with the previous day had been sold. Guess that made my decision for me! I'm glad such a lovely dress is getting a good home.

We returned to the Gibbons table with ten minutes to spare and found an utter mob scene. The line snaked around itself four deep! They were processing fans ASAP, so there was no time for conversation with the man, but it was still cool to see him in person and get his signature in my copy of

Watchmen

.

And that was it! I was rather stunned toward the end to realize that I only attended a single panel, as I'd meticulously planned out a schedule for myself ahead of time, but when it came down to it, spending time with my friends felt like a much higher priority. I feel like a

Lifetime

movie. And now I can't wait for ConDFW the 20th-22nd!

And that's all I have to say about that for the moment. Hopefully, now that I've gotten that off my chest, I'll be able to go back to blogging about silly things?

Labels: cons, costuming, doctor who, dresden files, joss whedon is my master now


Priscilla said at 1:25 AM
5 comments




Saturday, December 06, 2008

---

Now that's just...
neat
.
When you search Amazon for the
Dresden Files: Welcome to the Jungle
trade hardback, you get:
(Click image for full-sized version. I didn't want to screw up anyone's layout.)

It's total happenstance on the excerpt, but... thank you, universe, for taking steps to make up for my total suckfest of an illness these past few days.

Labels: dresden files, wow i guess i am a bnf


Priscilla said at 11:46 PM
1 comments




Thursday, November 13, 2008

---





I wrote fic! Fic for Kat for the Dresden Halloween Ficathon! Fic that I'm really, really proud of, and that made Kat cry!

I promise to never use my powers for evil.

Title: The Other SonFandom:

Dresden Files bookverse

Characters:

Thomas, Harry, Justine, Susan, and an unexpected guest or two

Prompt:

"Thomas on Harry. Let's see his POV on his baby brother. I don't want slash of any sort, just brotherly shenanigans." --Kat

Word Count:

4,846

Rating:

PG-13

Summary:

Thomas Raith has a brother.

Spoilers:

Up through

Blood RitesDisclaimer:

Thomas, Harry, and all other assorted Dresden-y characters and concepts belong to Jim Butcher and Penguin Books.

Link:

Read it at

The Archive

!

Labels: dresden files, fanfic


Priscilla said at 1:08 AM
0 comments




Sunday, November 02, 2008

---

Hokay! The second half of the story of my weekend!
Saturday was the last day to submit entries to the Dresden Files Halloween Costume Contest, and though I felt it was inappropriate for me to enter, I still wanted to get in on the costuming fun! Early that afternoon, I pondered over how I could pose to best depict Molly. The first thing to come to mind was to have her with the beaded leather bracelet she wore in
White Night
, struggling to move the beads up the strap with her mind. However, as I didn't have the materials and the light was quickly fleeing, I realized I would have to think of something else.
Then it hit me.
The costume I have for Molly is based on how she looks in the book
Proven Guilty
, in which she helps staff a horror movie convention called "SplatterCon!!!" Considering her appreciation of the genre, dollars to donuts she's a big fan of the Bruce Campbell oeuvre. I kicked myself for not dressing up as her the previous night when I went to see
My Name is Bruce
, losing the opportunity for a "Molly fangirling Bruce Campbell at SplatterCon!!!" photo.
But wait! All was not lost! Halloween wasn't Bruce's only night in New York! My friend Shecky saw him enter the theater around seven the previous night--what if I could catch him on his way in?
I mentioned this idea to my friends on the Jim-Butcher.com forum, and Craig (a fellow New Yorker I've palled around with on a couple occasions) volunteered to join me and bring his camera. SCORE!
Craig and I went over at 6:40, in hopes of catching Bruce before he introduced the 7:20 screening. We whiled away a significant chunk of the time laughing about how ridiculous we were being. Alas, Bruce must have gone in a different door. At 7:25, the sensible thing would have been to call it a night, but no one has ever called me sensible! Instead, we went in and spoke to the manager. I explained the situation and asked him if there was any way we could pull it off. Shockingly, he didn't gape at us in horror and tell us to beat it! He suggested we come back during the Q&A at 9 and ask Bruce if it would be okay. He even said he'd let us go into the theatre without tickets! If you're out there, Justin, you ROCK.
Craig and I went out for crepes and conversation, then returned at 8:45 to catch the tail end of the movie. At the Q&A, I explained the story to Bruce, and rather than publicly mocking me, he waved me down to take the picture! EEEEEE! He asked who I was dressed as, then asked if I looked like the character. The audience was largely silent, save for a couple smartasses who said no. (Hmph! Jim himself has [url=http://www.jimbutcheronline.com/bb/index.php/topic,7771.msg260409.html#msg260409]commended me[/url] on it!)
Alas, my camera's flash wasn't on, and Craig didn't know how to turn it on, so he took two blurry photos before Bruce humorously shoved me away for taking too long, saying "Gah,
Evil Dead IV
will be made by the time you take the picture!" I laughed and thanked him, though inside I lamented getting so far, only to be thwarted by a stupid flash.
As a last ditch effort, I talked to one of the ushers and verified which door he'd be leaving from, and we waited for him outside. I thanked Craig for the umpteenth time for indulging my insanity. Finally, Bruce emerged! "I turned the flash on this time!" I said by way of greeting, and he grinned and said "Let's do this thing!" We took the picture, and it was everything I hoped it would be, and Craig shook his hand, and then he was off! Craig and I did a little squee dance, and parted ways.
WINNERS = US!
Though I think we can all agree that the
real
winner is AMERICA.
File under: costuming, dresden files, epic win.

Labels: costuming, dresden files, epic win


Priscilla said at 10:49 PM
3 comments




Saturday, September 20, 2008

---





Woo! Now that my bio is up, I am delighted (and somewhat intimidated) to announce that I will be a panelist at

ConDFW

this February! They haven't yet informed me what I'll be talking about, but I imagine my work as a Thematic Consultant on the Dresden Files comics may factor in, as that's the reason I was recruited. Bring it! *high-fives fellow consultant Mickey Finn, another panelist*

Check out my sweet bio

here

.

Labels: condfw omgwtfbbq, cons, dresden files


Priscilla said at 12:49 AM
1 comments




Sunday, August 17, 2008

---





The intrepid fangirl reporter returns! Subterranean Press didn't give me an exact date, but they did specify "very early October." Looks like

Backup

just got bumped forward 3-4 weeks! Huzzah!

Labels: dresden files, jim butcher


Priscilla said at 4:17 PM
0 comments




Friday, August 15, 2008

---





Fandom creative awesomeness mini-linkspam:

Oooh, Feather is running another

Dresden Files ficathon

, right in time for Halloween. Now I just have to figure out what to request!

Tealin doodles Doctor Horrible

, and it is love and win.

Aysha/Questionstar

posts a quasi-tutorial

of her amazing armor-making method. I wish my fandoms had characters with awesome armor, because desperately I want to experiment with some of these techniques.

Nerd Squee MiniSpam:

Amanda Palmer sings

"I Google You"

. Highly amusing! (Good lord, I hate it when people google me)

Deleted Iron Man sceneDollhouse sceneletAlan Tudyk interviews Nathan FillionHot library smut!Political Mini-Spam:David Shuster pwns PUMANifty Anti-McCain ad

And a meme!

Pick a fandom, and I'll tell you which character(s) I would:

1. bake cupcakes for

2. trust with the keys to my car

3. put thumbtacks on their chair

4. have a crush on

5. pack up and leave if they moved next door

6. vote for President

7. pick as my partner in a buddy movie

8. pair up

9. vote off the island and into the volcano

10. wheedle into fixing my MP3 player

Labels: dr horrible, dresden files, firefly, linkspam, memes, nathan fillion, politics


Priscilla said at 10:50 PM
1 comments




Sunday, July 20, 2008

---

Hmm. What to do when your Molly costume actually looks really cute, as opposed to Frankenhookerish?
Here's the full costume, with and without the jacket (it's going to be HOT in San Diego!), and a close-up.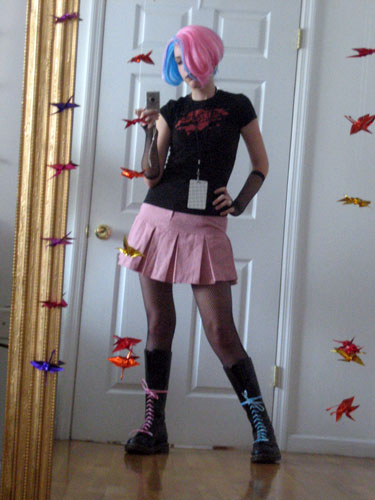 The wig is done! I initially planned to gel it into spikes, so it would look more street grungy and less like a punkish Veronica Lake, but I love the current look too much to risk screwing it up. Unfortunately, I screwed up the ratio of ink to rubbing alcohol in the dye for the blue, making it look kind of flat and gummy. I managed to fix the gumminess, but it's still not as shiny and pretty as the pink side. In fact, it looks kind of radioactive. Ah well. :D

At the con, I'll be wearing black nail polish as well, but I didn't feel like putting it on just for these photographs.

(Dear god, I want to steal that jacket. I'm borrowing it from the awesometastic Rebecca, who found it at a thrift store for TEN BUCKS, whereas it usually retails for like $80. Envy! Thaaaaaank youuuuuu, Rebecca, for lending it to me!)

Labels: costuming, dresden files


Priscilla said at 12:38 PM
9 comments




Friday, July 18, 2008

---





This will only be funny to people who watched last week's

Middleman

(Flying Fish Zombification) and have read

Proven Guilty

(8th Dresden book), which means... probably only one of you. Oh well. I'm entertained!

Cut scene from

Proven Guilty

:

Harry: So talk. How'd you wind up in jail?

Nelson: I'm not sure what actually happened. I was in the bathroom—

Harry: What bathroom? Where?

Nelson: At the convention.

Harry: Convention?

Molly: *points to her SplatterCon!!! button* It's a horror movie convention.

Harry: SplatterCon? Never heard of it.

Molly: No, SplatterCon (*jazzhands*).

Harry: That's what I said.

Molly: Yeah, but you didn't do the (*jazzhands*). SplatterCon (*jazzhands*) is spelled with three exclamation points on the end. It's pronounced "SplatterCon (*jazzhands*)."

Harry: *stares. a long, long time.* You trick me into coming bail your boyfriend out under false pretenses, interrupting some very important work that could very well save my bacon in the next few days, and you expect me to do (*sarcastic jazzhands*) every time I say the name of some ridiculous convention?

Molly: *silent yeep*

Harry: [to Nelson] Okay, what happened in the bathroom?

For everyone else, here's

Zac Effron inadvertently dancing to the "Gaston" song

. Renata needs to see it RIGHT NOW.

Labels: dresden files, middleman, you tube


Priscilla said at 9:45 PM
1 comments




Saturday, June 21, 2008

---





Just got off the phone with

Raoul Bhaneja

, who played Kirmani on the Dresden Files TV show. What a great guy--so generous with his time! He talked for over an hour, mostly about his

Hamlet (solo)

project and the Dresden Files, but also branching out into musings on the sci-fi/fantasy genre and its emergence from the fringe to a centerpiece of pop culture and dramatic storytelling. It was somewhat difficult to get a word in edgewise, but as he was covering all the questions I'd planned for him on his own, it wasn't necessary to steer the interview in any other direction.

I'll have to give some thought to how I'm going to release it. As the longest episodes of the Butcher Block have landed at the 45 minute mark, with most episodes hovering near 30, I'm not sure how the hour-long running time will go over with our listenership. T'will be something to ponder!

In other news... iPhones allow you to program a number of alarms, to repeat on specific days and suchlike. I just had the ecstatic pleasure of turning the "Weekend Work" alarm OFF. OH, RAPTURE! I'm off Sunday and I'm on call Saturday, but hopefully I won't be summoned. Finally, I'll be able to get stuff

done

! Stuff like

sleep

. Sleep is good stuff to do. I think I'll do some now.

Labels: dresden files, podcasts, working for the new york yankee dollar


Priscilla said at 1:25 AM
2 comments




Friday, June 20, 2008

---





Tonight, I'm interviewing

Raoul Bhaneja

for

The Butcher Block

. Thanks to Jimmy for helping make it happen!

I randomly found out he's doing a one-man version of

Hamlet

in NYC this week (the 19th, 21st, and 25th--I have ticket for the 25th), and I thought it might be keen to see if I could swing an interview. The director, Robert Ross Parker, is co-founder of the

Vampire Cowboys

Theatre Company (one of the most entertaining, innovative, unique troupes I've had the fortune to discover), and as Jimmy has strong ties to the company through his podcasting shenanigans, he was able to forward my email to Robert, who contacted Raoul. Jimmy is like a ninja or something. I got an email back from Raoul

one hour and two minutes

after sending Jimmy my message! Zounds!

From the brief phone conversation Raoul and I had yesterday to set up the interview, it sounds like he's involved in some awesome projects. His schedule is fairly tight, as he's escaping the city on the weekend to shoot scenes for

Warehouse 13

--something I'm

very

interested in, as it's co-written by Jane Espenson, one of my favourite TV writers. Amusingly enough, it co-stars Joanne Kelly, who played Bianca on the Dresden TV show. Small world!

Raoul also mentioned that Paul Blackthorne is in town, filming episodes of

Lipstick Jungle

, and that he expected Paul to come to one of his performances. If so, he said he'd pass my name along. Who knows--maybe I might end up snagging an interview with our Harry! :D

Labels: dresden files, my friends are awesome, podcasts


Priscilla said at 11:02 AM
0 comments




Wednesday, June 11, 2008

---

Just saw the cover art for the
reprint of the first issue
of the Dresden Files comic book for the first time.
Oh my god. Harry Dresden is Iron Man.

Labels: dresden files


Priscilla said at 10:23 PM
3 comments




Monday, May 26, 2008

---





Ficathonfic is

posted

! 9,185 words. :D

My Prompt, from quick_silver985: "Morgan seems a little grumpy. Oh, I wonder if there's some interesting story in his background that made him the way he is today... some tragic love, perhaps. Or the loss of of a dear friend, sibling, or parent. Who knows? Let's see a fic about it!"

Rated PG-13 for gratuitous use of Gilbert and Sullivan.

Labels: dresden files, fanfic


Priscilla said at 1:26 AM
2 comments




Sunday, May 18, 2008

---





OH MY EEEEEEEEE.

Kat wins at life. Kat wins the internet. Kat wins fanfiction and friendship and brownie challenges all at once! Kat secretly

wrote me Molly/Carlos

and has been conning me for the entire two month duration of the ficathon! She even

wrote a second fic

for me to beta to con me, because I said I'd be her beta! KAT WINS EVERYTHING.

In case the squee fails to translate to English, here's The Chronology of Kat's Awesomeness:

February: I sign up for the Dresden Files ficathon. Because I am me, one of my prompt options is for Molly/Carlos. I guess Kat included that as a ship she was willing to write.

Late March: Assignments are sent out! Kat and I gossip, and we decide that we will beta for each other, as usual. She claims to have Harry/Murphy snarky fluff. Somewhere in California, Kat cackles maniacally. Far away, in New York, Priscilla has no idea. KAT IS SNEAKY.

Late April: Kat informs me that Bard has posted in her LJ, asking for help digging up certain details for her ficathon story, and she needs the help of the Canon Goddess (me). Three out of four are about Molly or Carlos. I squee like a crazywoman, as Bard writes great Ramirez and I would love to see her take on my favourite ship. In reality, Bard is Kat's beta, asking questions for her to deter suspicion. KAT COULD WORK FOR THE CIA.

Last week: I'm scrambling like a mad scrambling thing to finish my fic (which will be posted later this week, as I'm still nowhere near done), wondering idly why Kat hasn't asked me to beta her story. Finally, she hands off a delightful Harry/Murphy fic, which I beta for her. Hurrah! I am so completely suckered.

Tonight: Kat IMs me, telling me to check my flist, where I see her story. KAT WINS CHRISTMAS.

So in conclusion: EEEEEEE.

Labels: dresden files, my friends are awesome


Priscilla said at 12:00 AM
0 comments




Thursday, May 15, 2008

---





Today is clearly Recognize Priscilla's Awesomeness Day!

First: OMG, GUYS!

I'm on IMDB

! I just modeled a few little things for the movie in my internship last summer. I had no idea I would be credited! Man, I am so much more excited about this than I should be. XD

Second:

Thematic Consultant Love

in the second issue of the Dresden Files comic book! Get the full 5-page preview for the issue

here

.

Labels: dresden files, fame


Priscilla said at 1:03 PM
3 comments




Wednesday, May 07, 2008

---





Episode 2 of the Jim-Butcher.com news podcast, Butcher 'Spress, is up! Check it out

here

, and laugh at my "Rain in Spain" awkwardness as I attempt to speak at a much slower pace.

Also, new Dresden fic

here

(varying spoiler levels) and

here

(MAJOR SmF spoilers).

Labels: butcher block, dresden files, fanfic, podcasts


Priscilla said at 4:27 PM
0 comments




Monday, April 21, 2008

---

Other stuff I hadn't blogged about at the time I made the last "Stuff I Haven't Blogged About" post:
More Stuff That Is Awesome:
Obama, Clinton, and Edwards on the Colbert Report! OMG ILU EDWARDS. Obama is my main man, but it was Edwards' appearance that had me giggling like a moron at work. Well played, writers!

Have I shared this image yet? Click for the full thing.




Detroit Octane endorses their favourite candidate
Comic Con post coming whenever I can find time to write it. Suffice it to say, it was OMGAWESOME.

Labels: dresden files, politics


Priscilla said at 1:46 PM
2 comments




Saturday, April 19, 2008

---





*snorks* I was cleaning out my bookmarks the other day, and I found

this article

. Nice job finding artwork relevant to the comic itself, instead of fanart. By me. Displayed without credit. :D

Labels: art, dresden files, epic fail


Priscilla said at 8:15 AM
2 comments




Wednesday, April 02, 2008

---





*dies and is dead* I just put the

Small Favor

audiobook on (the book came out yesterday! And it's FANTASTIC!), but I had to pause it after two sentences to giggle like a moron. James is reading the snowball fight with such grave seriousness. And I can't help comparing it to the reading Jim gave at PhauxCon, which was done with a near-lunatic glee. I love my fandom.

And speaking of my fandom, check out the crossover fandom fanart image I did for

FictionAlley's April Fools' Day Tradition

. I love my wizards named Harry. :D

Labels: dresden files, harry potter, holidays, nerd glee


Priscilla said at 12:19 PM
1 comments




Monday, February 18, 2008

---





Woohoo,

Dresden Files Ficathon

! Doo eeeeet.

And AAAAAAAARGH. I just ripped my SECOND pair of jeans in TEN DAYS. Sure, these were very old jeans, but they were my favourites. Also, poor timing, universe! If this had to happen, why couldn't it have happened yesterday? I could have gone shopping today and taken advantage of all those lovely Presidents' Day sales.

LIFE IS SO HARD.

Oh

Firefly

marathon, will you make it better? Of course you will! You're a

Firefly

marathon! You make

everything

better!

Maybe my ripped jeans are a sign from God that I should dress up as Delirium for Comic Con.

(This moodswing is brought to you by the chromosomes XX and the color Red.)

Labels: dresden files, fanfic, firefly, omg teh angst


Priscilla said at 8:08 PM
5 comments




Tuesday, February 12, 2008

---





New chapter of

Small Favor

up at

Jim-Butcher.com

!

And a new video frow Lawrence Lessig, exploring Clinton and Obama's respective chances at beating John McCain. Definitely worth a watch.

Labels: dresden files, obama is awesomesauce, politics


Priscilla said at 10:38 AM
0 comments




Friday, February 01, 2008

---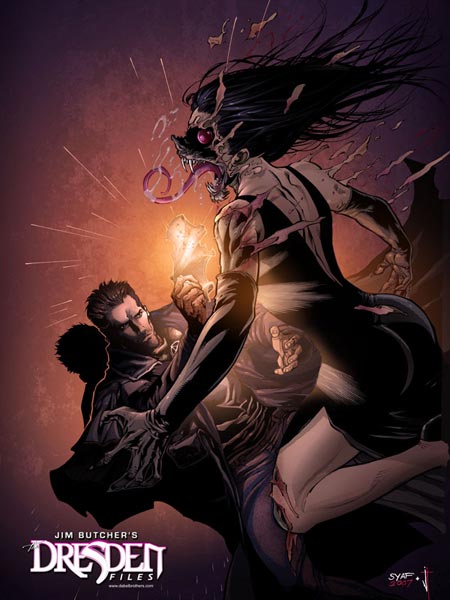 Yes, please.

Details here

!

Labels: dresden files


Priscilla said at 1:38 PM
0 comments




Tuesday, January 29, 2008

---





The first chapter of Small Favor

, tenth book in the increasingly awesome Dresden Files series, has been posted on JimButcher.com! Go read, and bask in the awesome that is the Carpenter family. Four chapters total, posted on Tuesdays!

Labels: dresden files


Priscilla said at 5:08 PM
0 comments




Sunday, January 27, 2008

---

So! Last week!
1. Kristin finished her paaaaaaaainting, and it's awesome!
Clickyclicky
! Bask in the pretteh!
2. Jimmy's friend canceled on him at the last minute and I got to go to see
Save the World
with him, which was cute and inventive! Lots of great dialogue. They managed to do a lot with a very low budget. (And no, contrary to what the article says, Jossverse hat-trick Jonathan Woodward was alas not a part of the cast. His replacement was quite good, though.) Thank you, Jimmy!
3. Last night, who would come to my roommate's dinner but IANA. Iana was an exchange student from Bulgaria who was in several of my classes, participated in JETS, and ended up staying with my family over the first half of Christmas break. I knew she went to Amherst undergrad, but we never really kept in touch after she went home. Turns out it was my roommate's family that she spent the second half of Christmas break with, and they did keep in touch! Now she's working here in Manhattan at an investment banking firm. Man, what is it about New York that calls forth all the Hockadaisies?
4. Friday, I finally brought my TV!Bob drawing off the back burner and up to the forefront of my list of priorities! I started it waaaaay back in July as a prize for the
Save Harry
campaign, but what with the move and the overtime and the new computer, I got a bit derailed. Upon looking at it again on Friday, I was promptly horrified with the quality of the line art, and I spent much of the weekend shifting around proportions in Photoshop or re-drawing the portions that needed it. Today, I'm SO EXCITED about it. This is definitely a piece I'm going to be proud of! I can't wait to (re)start coloring.
5.
Who is Your Ideal TV Boyfriend?

Labels: dresden files, my friends are awesome


Priscilla said at 11:19 AM
0 comments




Tuesday, January 22, 2008

---





Gah, I didn't realize you had to have an account on the forum to view stuff there. Lame. Check out the Dresden graphic novel page

here

!

Labels: dresden files, jim butcher


Priscilla said at 5:43 PM
0 comments




Monday, January 21, 2008

---





A page of art from from the Dresden Files graphic novel has been leaked! And it's preeeeeeeeety. Check it out

here

!

(Edited to fix link!)

Meanwhile, I somehow failed to mention here that the Dresden Files novelette "Backup," told from Thomas' POV, is going to be illustrated by MIKE MIGNOLA. EEE! Preorder

here

, but be aware that the blurb contains HUGE spoilers for

Blood Rites

. Wow, I spend all my time pimping this news in other places that I forget my own blog. :D

Labels: dresden files, jim butcher


Priscilla said at 6:54 PM
0 comments




Thursday, January 03, 2008

---





My Canadian Bretheren! My Neighbors to the North!

Space is airing the full two-hour unaired

Dresden Files

pilot this Saturday at 8 pm. I'm not sure how likely it is that the episode will make it to the US any time soon, so would any of you be able to record it for me? DVD, avi, VHS... all are good! I'd happily reimburse shipping. Email me or comment if you can help. The fandom will thank you!

Labels: canada is awesome, dresden files


Priscilla said at 11:48 AM
1 comments




Wednesday, November 07, 2007

---





GLEE! James Marsters' site just announced that he'll be doing the audio book of

Small Favor

, tenth book of The Dresden Files! Details

here

.

And FREAKING SQUEE! I just got THE LAST TICKET to see

Tim Burton at the Lincoln Center

next week! ...At least, the last Mezz seat. Which... drat. Probably means it's the worse in the Mezz section. I should have gone with Balcony. But I just bought my ticket, so oh well. I'm sure every seat will be a good one! Stupid confusing thing saying "1 ticket left," misleading me and making me rush my decision. But it will be awesome, and EEE TIM BURTON.

Labels: dresden files, new york, tim burton


Priscilla said at 4:38 PM
1 comments




Sunday, October 28, 2007

---





Two new creative-type posts in the LJ: a delightfully silly round-robin

Dresden/Discworld crossover

for Becky and a

bunch of doodles

from a figure drawing session at

Dr. Sketchy's

!

Labels: art, discworld, dr sketchy, dresden files, fanfic


Priscilla said at 3:19 PM
1 comments




Friday, October 19, 2007

---

Ah, finally, time for a sane post! Life continues to go swimmingly in La Vida Cellie. Here, have a recap:
Last Thursday (as in a week from yesterday), I saw Tori Amos in concert for the first time, and she was excellent. She's such a strong performer! Playing two pianos at once = pretty awesome. I can't even play one piano.
As I alluded to before, work has been somewhat mad lately, but madness breeds humor and silliness, so all is good. In addition to my usual duties assembling characters, I did some work painting body textures, drawing heavily on the anatomy lessons from my figure modeling class. Mmm, anatomy! I need to find time to do some drawing soon. I need to experience
Dr. Sketchy's
.
Speaking of art, I mentioned the other day that Dabel Brothers Publishing is making the Dresden Files into graphic novels. Well, the news gets COOLER! I can now reveal that I've been brought in as a Thematic Consultant, meaning that I, along with Jim and the other two Consultants, will be the first to see the artwork as it comes out. We give our thoughts on the artwork and help keep everything canon-friendly. We got to suggest the scenes depicted for the promotional posters, and the art we've seen so far is EXTRAORDINARY. I can't wait until it's revealed to the public! Also, our names will be credited. Yes, we are awesome. :D
This weekend, I'm going to York, Pennsylvania, to attend a Halloween bash at the home of Courtney and Ryan, the coolest couple EVER, whom I met at the PA Shindigs. Kristin, hostess of the Shindigs, is giving me a ride. Many of the attendees are part of the Star Wars 501st, so I'll be among fellow costuming enthusiasts! A splendid time is guaranteed for all. Also, I just found out that Ko, roommate extraordinaire, will be in New York next week, so it'll be all kinds of fun to catch up with her life. Also, it's likely we'll meet up with Veronica, who was my favourite professor at Penn. She taught the Feminist Fairy Tales course, which changed the way I view storytelling and revision.
In other news, I've been doing a lot of reading lately. My daily commute allots me about an hour of reading time per day, which I didn't realize I so desperately craved until it was imposed upon me. I'm currently reading Robin McKinley's
Sunshine
, which is excellent. I read her
Deerskin
in said much-beloved Fairy Tales class last year, and it became my favourite book of the course. This summer, I read
Beauty
, which was also wonderful, and
The Blue Sword
is now on my shelf, jockeying for a position on my To-Read list. Mmm, such a great author!
Recently, I have read:
Charlaine Harris' Southern Vampire series. It's a lot more lightweight than my usual fare, but it's cute and fun and the literary equivalent of popcorn. Good stuff.

The Amulet of Samarkand, Jonathan Stroud. Delightfully complex and dark for something billed as a children's book. I'll be returning to this series before too long.

Unshapely Things, Mark del Franco. Solid urban fantasy.

Something From the Nightside, Simon R Green. Mmm, more urban fantasy. While the characters could be tedious at times, I love the inventiveness and atmosphere.

Zorro, Isabel Allende. My mom has been harping at me to read this book for months, and now I know why! This book is extraordinary. Vivid, compelling characters and lush descriptions bring to life the early years of the man who would become Zorro.

"Rats," Veronica Schanoes. A darkly powerful short story published in Interfictions that makes some excellent comments on the nature of fairy tales and storytelling.

The First Among Sequels, Jasper Fforde. Oh my good lord, I'd forgotten how much I adore this series! These books are so smart and witty, my brain does a little dance of appreciation. I need to go back and read all the Thursday Next books RIGHT NOW. And I need to give Fforde's nursery crime series a second chance. The fact that they are not Thursday books is not a valid criticism.

His Majesty's Dragon, Naomi Novik. First in the Temeraire series, which has been pitched as "Master and Commander, with Dragons." It's refreshingly novel, written in a style very different from the sci-fi/fantasy I've been reading lately. I wasn't compelled to immediately pick up the next books in the series and devour the lot in one gulp, but I'll probably return to it before too long.

Making Money, Terry Pratchett. While not as spectacular as Going Postal, it was still nevertheless crazy, crazy fun, and I adored sharing head space with Moist again.
I love you, New York Public Library.

And now, gotta pack!

Labels: books, dresden files, jasper fforde, libraries are awesome, working for the new york yankee dollar


Priscilla said at 10:05 PM
1 comments




Sunday, October 07, 2007

---





I'm back from PhauxCon! I had such an amazing time, and I'm already teasing out ideas for a panel next year. I was lucky enough to meet Jim Butcher (author of The Dresden Files) at NY Comic Con last year and found him to be all the things you'd hope a favourite author would be in real life: affable and funny and down-to-earth. But getting to hang out with him and his wife Shannon (also a published author) in such a relaxed atmosphere was an entirely different dynamic! The Butchers are such great people, and they're even more fun when they're not exhausted and stressed out by the grind of a huge convention or a signing tour!

Friday night, we watched the unaired, 67-minute Dresden pilot, and Jim merrily heckled the entire thing. It was

HILARIOUS

. Heckling bad Sci-Fi channel movies is a tradition in the Butcher household, and the incomplete special effects and temporary voice overs in the pilot made for a lot of easy jokes. One of Jim's running comments was to repeat the text of the cards on the temporary effects in an excited tone with "Trust Us!" added, like "Bianca's face is burned! Trust us!" He also shared a bunch of cool behind-the-scenes facts about the series, such as "This is where the stunt guy broke both his legs." Poor stunt guy.

Saturday, Jim and Shannon each did a Q&A session, and as many of the attendees are writers, they were able to share their experience dealing with the writing process with us. Shannon wore my Maeve tiara during hers, as she is Queen of Estonia. Jim also talked about his experience with the various Dresden media spinoffs--the TV show, the comic, and a few potential projects on the horizon. Coooooool!

The other panels were excellent. Steph continued her "Flashcard Fandom" tradition with

Torchwood

, Deb made an extraordinary presentation I wish I'd recorded on public perception of fandom, Nikki talked about anti-heroes (and why we love them), Steph and Eurydice talked about the transition from fan fic to pro fic, and another woman whose name begins with an L but completely escapes me talked about the significance of alleys in

Buffy

and

Angel

. It was fascinating stuff, and it generated some great discussions!

At the three dining events, the Butchers joined us in geeking out over various nerdy pursuits and regaled us with stories about their son, J.J., who is quite clearly the coolest kid in the history of the universe (and is also goin' to Utah!). At the signing, Xionin gave Jim a set of the

Serenity Alliance Currency Money Pack

that hadn't sold in the silent auction, and he joked about "Gettin' paid in cashy money," quoting Mal, then amended this statement to "Gettin' paid in cash and coke," referring to the seemingly bottomless supply of Coca-Cola Xionin provided for him. I took home the other money pack and the Tenth Doctor and K9 action figure set. Now Ten and Illyria and the cast of Mirrormask can have wacky escapades on my desk at work!

The Shindig was all kinds of fun. As readers of my blog know, I came as Maeve, and I was delighted at how well it turned out! I got all kinds of praise from both Jim and the other con-goers. Most of the group didn't come in costume, but we did get a wonderful Michael, a Charity, a hybrid book cover/TV Harry, a vampire, a 70's dude, and a pair of ladies in Ren Fest attire. Jim joked that was dressed as Dr. Chao, the cameo character he played on the TV show. He showed us concept art from the upcoming comic (including some images I hadn't seen yet!) and read from one of the Dresden books, doing so in the most energetic, geeky, delighted voice imaginable. He was having SO MUCH FUN as he read to us, and we laughed and cheered and winced right along with him. It was like reading it again for the first time! Crazy fun. A splendid time was had by all!

I'm mostly relying on Xionin and Rob for photos, but here are a few that were taken with my camera:

Me and JimMe, Jim, and Rob

A very blurry shot of

our Carpenter couple

And here's

the wig alone

again, as I am so freaking proud of how it turned out!

I'll post more pictures (and a link to the video of Jim's Q&A session) as soon as they're available. Hopefully Xio and Rob will upload them sometime this week, after they recover from the con and perhaps take a three-day nap. :D And note that Jim and Rob are not short, I'm just wearing six inch platforms, making me 6'3"! And I didn't break an ankle! Win!

I have no hat, so I will say that my wig is off to Xionin for putting together an absolutely extraordinary con experience. I'm in awe of all the work she does for PhauxCon, and I'm so grateful. I had such a blast! Love to all the returning members, and I hope I can hang out with some of you again before PhauxCon 6!

Labels: costuming, dresden files, jim butcher, nerd glee, phauxcon


Priscilla said at 5:35 PM
5 comments




Tuesday, October 02, 2007

---




Priscilla said at 6:56 PM
0 comments








The

latest episode

of The Butcher Block is up! And like half of it is Fred and me giggling at each other. But news is imparted and Alera Love is shared, so all is good.

Labels: dresden files, podcasts


Priscilla said at 12:28 AM
0 comments




Monday, October 01, 2007

---





EEEE! I just found out last night that

Terry Pratchett

is going to be at the Union Square B&N tonight! And I have permission to get off work early! TRIUMPH!

So. Saturday and Sunday, my friend El came to visit! For her 18th birthday, she went to see Drew Sarich, one of her favourite actors, playing Valjean in

Les Miserables

. All was merry! We had great adventures with nonexistent transportation and both got a pair of the most ridiculous shoes ever.

I'm kind of obsessed with the shoes, and they would actually work really, really well with my Maeve costume, so I'm currently debating between them and my Docs. They're clear plastic 6" platform heels--making me 6'3"--with sparkly green accents, and they are SO MAEVE IT HURTS. I'll bring both alternatives with me to Philly and decide there.

Speaking of Maeve, I finished the wig last night! Well, I might actually bleach some of the brighter strands a touch whiter, as it's gotten a bit too far away from the glacier look, but... EEE! Pretty! See

here

and

here

. I love the tacky tiara--It

makes

the wig! I found it in a box of equally tacky tiaras, probably intended for Daddy's Little Princess's quinceanera. A bunch of them actually had a "15" in rhinestones. I love it!

And the tackiness of the tiara and the potential shoes nicely offsets the elegance of the toga top, and everything comes together beautifully. When I first set out to put the costume together, I was worried that the costume wouldn't have the vibe and personality it needed, but I see now that my fears were completely unfounded.

Now I need to figure out some kind of crazy knitting project that will allow me to use all my leftover yarn. It's so pretty, I can't just let it collect dust in my closet!

Labels: costuming, dresden files, meeting online friends


Priscilla said at 10:53 AM
4 comments




Friday, September 28, 2007

---





GUH. Just started adding the mohair to the Maeve wig, and it looks awesome! Ooh, I wish I'd gone with mohair entirely rather than starting with the

Point Five

. It looks so much more dreadlock-y and awesome, all felted to itself. Inspired by this look, I'm gently untwisting and separating the Point Five, then re-twisting it in chunks with a few strands of mohair to make it look a bit more dread-y. It looks way better already! Squeeeee, one week until PhauxCon!

Labels: costuming, dresden files


Priscilla said at 9:52 PM
0 comments








More progress on Maeve!

I have no idea why these look so desaturated. You totally lose the cool, subtle blue-green glow of the wig hair! And the pinkish yarn is actually closer to a dark beige. They looked fine in photoshop! Ah well. I currently have about a third of the head wool-ized, though I'll be going back and adding more of the blue-purple-black yarn in the lower layers to get the general color range a bit closer to the intended vibe. The other side is still the wig hair only, without the added woolly goodness.

Soooooo excited. Though I need to figure out what to do with the bangs so I don't look like an anime character!

(And woo, Charlex t-shirt! My company's parent company, for the win!)

Labels: costuming, dresden files


Priscilla said at 12:22 AM
2 comments




Thursday, September 27, 2007

---





*dies laughing*

Real Life Comics discovers The Dresden Files

!

I toooootally didn't do this... *shifty eyes*

Labels: dresden files


Priscilla said at 6:44 PM
0 comments








WOOHOO! I just finished dreading the Maeve wig! A full head of 37" hair, all without incurring a repetitive stress injury! WIN!

Labels: costuming, dresden files


Priscilla said at 1:30 AM
0 comments




Tuesday, September 25, 2007

---





Some Maeve pics!

The hair dye job!

This is the only shot I could get the colors to look reasonably accurate. It's much lighter than one might expect from her description in the book to compensate for the darker colors of wool I'll be adding in. Anyway, it looks so cool in real life! When it's in shadow, the sea green practically glows.

My nails afterwards

, AFTER scrubbing at them for five minutes.

First progress shot

of the dreads and some wool added in, taken Sunday evening.

What it looks like now

, with all the "done" dreads pinned up out of the way and all the remaining hair still down. *wibbles and clutches poor, aching arm*

Another angle

showing all the dreads I've done so far, which might explain the wrist-twingeing.

Labels: costuming, dresden files


Priscilla said at 12:54 AM
2 comments




Friday, September 14, 2007

---





So! Catching up.

I'm almost done with living out of suitcases! My last piece of furniture, a chest of drawers, will arrive this Sunday. This past weekend, I gained a desk, a headboard, a bookshelf, and a massive TV and a lovely dinner table for the common room. WIN!

While I wasn't waiting for stuff to get delivered this weekend, I was tromping up and down the city looking for clothes and ideas for a new costume. A new costume! I have a goal! Time has meaning! For

PhauxCon

's McAnally's Costume Shindig, I'm going as Maeve, the Winter Lady from The Dresden Files. Ever since I first read her description in

Summer Night

, I've longed to make her costume, and now I'm going to!

The chief draw is the wig I'm going to make: "Her hair had been bound into long dreadlocks, each of them dyed a different shade, ranging from a deep lavender to pale blues and greens to pure white, so that it almost seemed that her hair had been formed from glacial ice."

*gurgles*

I just got the base wig last night--waist-length and white with long bangs--and it's so pretty that I almost feel bad that I'm going to dred the heck out of it. Ah well! It's going to be aaaaaawesome when it's done! I bought three skeins of gorgeous Colinette wool yarn, dyed just the way I picture Maeve's hair to be:

one

,

two

, and

three

.

Her general attire is a bit skankier than I want to play her, so it'll be a challenge to design a new outfit for her. I found a gorgeous, subtly shiny, ice-blue pashmina wrap that I'm going to pin strategically to a bra and wear like a draped, toga-ish top. Not sure how to better explain it, but it looks fantastic.

As for the bottom... no clue. Massive combat boots or tall Doc Marten-y type boots are a must, because that's just the kind of

person

Sidhe she is. I like the idea of a blue camo miniskirt with white fishnets or sexy, similarly patterned cargo pants, but I've been so far unable to find anything that fits this mental image. I have a few leads to pursue this weekend, though, so I might not have to give up on this concept. The big challenge is finding something that works with the elegance of the top, but also expresses her rebellious, punkish, sexy attitude.

Then there will be white/silver mascara and crazy eye makeup and maybe some sort of body painting involved, depending on how much time I'm going to have to get ready.

Speaking of

PhauxCon

, today is the last day of Early Bird Registration! After midnight tonight, the price will go up from $50 to $60. Then after October 4th, any remaining tickets will be sold at the door for $70. Registration is also open for Friday's dinner with Jim and Shannon Butcher and Sunday's writers' brunch. Details in

the LJ

!

I leave you with a fantastic BSG crackvid to Flight of the Conchords'

The Humans Are Dead

. YES.

Labels: bsg, costuming, dresden files, flight of the conchords, moving, phauxcon


Priscilla said at 11:07 AM
1 comments




Wednesday, September 05, 2007

---





Will pointed out that I've neglected to mention the release of

Many Bloody Returns

, an anthology of short stories dealing with vampires and birthdays. It officially came out yesterday, though I managed to snag a copy from Borders last week. Jim Butcher has a Dresden Files story included, and it's hilarious. Check it, yo!

Labels: dresden files, jim butcher


Priscilla said at 12:16 PM
2 comments




Tuesday, June 26, 2007

---





Episode 9 of The Butcher Block

is up! My news segment starts at 2:48. (Did I mention that I'm now the official news correspondent? Because I am. I've also been recruited to do news posts for Jim-Butcher.com) There's also an Easter Egg of sorts at 29:57. I miss being called an Industrious Little Gnome. :D

In case I didn't post about it before, Episode 8 is

here

(my bit begins at 4:09), though my segment was a bit less smooth. Firstly, I was moving at a breakneck pace because there was SO MUCH NEWS to report, and because I rambled like a crazy person in the previous episode. But most significantly, it was because I kept bursting into giggles for no particular reason (well, Chungy's presence in the next room might have had something to do with it) and had to redo whole chunks, and Fred had to splice everything back together. He sent me the "outtakes" reel of us screwing up and laughing at each other, and it's over seven minutes long--nearly as long as my actual segment!

Someone, somewhere, has started a drinking game based on how many times I say "Yesssss" and "Eeeexcellent" and is now either comatose or dead from alcohol poisoning. I really don't use those words that much in real life!

In other news, I made some brownies for friends, and they are

GORGEOUS

.

Labels: butcher block, cooking, dresden files, podcasts


Priscilla said at 10:13 PM
3 comments




Thursday, May 17, 2007

---

The next episode
of the official Jim Butcher podcast, The Butcher Block, is out, this time with a new format! I'm now the official News Correspondent, and my bit starts at about 3:45. Huzzah!
(31min 45sec) Fred plugs in for a quick episode in a new format. He checks in with Butcher Block News Correspondant Priscellie for an update on everything that's happened since the last episode, and goes over to the grill with Chad Underkoffler to cook up some "butcher burgers", looking into discrepancies in the continuity of the novels.
Of course, since Fred and I recorded my bit last Friday, we got news about the DVD release of Season 1, a release date for

Small Favor

, and according to Fred, Jim finished his story for "Supernatural Honeymoon" (but of course, none of the details of said story are public knowledge yet, phooey).

On a sadder note, however,

Veronica Mars has been canceled,

with

little hope

absolutely

no hope

for resurrection. Whyyyyyyyyyyyyyy?!

Labels: dresden files, podcasts, tv, veronica mars


Priscilla said at 12:28 PM
1 comments




Wednesday, March 28, 2007

---





I've been sitting on this since Friday morning, but now I can finally share it! Fred, who runs the official Jim Butcher podcast "

The Butcher Block

," asked me on to do a guest spot and discuss the most recent Dresden TV episodes. We talked yesterday afternoon for about 40 minutes (about 30 minutes of which appears in the podcast itself), and I had a great time! Listen to the episode

here

. You don't need an iPod to listen--just download the mp3.

Alicey, I'll put together a transcript for you, but it'll take some time, as school/job applications are insane. *stabs Tech Reel DVD that works on my laptop and was working on my DVD player yesterday morning but hasn't worked since, even though my Modeling reel was done THE EXACT SAME WAY and it works*

Jimmy, even though you don't read/watch Dresden, you might be interested in tuning in, starting at 39:43. :D

Labels: dresden files, fame


Priscilla said at 10:21 AM
4 comments




Monday, March 26, 2007

---





Sweet! The

Summer Knight

audio book just arrived, a month early. When I pre-ordered it, they said it would take twelve weeks, but it's only been nine. Those ladies at Buzzy Multimedia win at life.

Labels: dresden files


Priscilla said at 10:10 AM
0 comments








Dear Dresden Files TV Show,

Finally, a female guest star I don't find annoying! Well, not

very

annoying, at least. Maybe "Finally, a female guest star Harry doesn't hit on!" better summarizes my feelings. Is this actually the first episode where Harry doesn't kiss someone?

Also Bob is love.

Signed,

Priscilla

Dear Battlestar Galactica,

WHAT THE HECK WAS THAT?

Love,

Priscilla

P.S. Also my roommate is the fifth cylon. I have photographic proof!

Labels: bsg, dresden files, open letters


Priscilla said at 12:33 AM
1 comments




Wednesday, March 21, 2007

---





Dear Universe,

How hard is it to spell my name? I mean really! Especially when you have it written down in front of you!

Annoyed,

Prescila Pricella Purcella Brasille

ah, never mind.

It's ridiculous. A friend's mom still thinks my name is "Sally." And even weirder, I've read two books in the past week with minor characters named "Priscilla," when I rarely ever encounter the name outside the context of Me. The second was in

A Canticle or Leibowitz

, a book we had to read for my Sci-Fi class. Priscilla is a yappy, six-legged dog owned by a two-headed woman. The first was

White Night

, which includes a bitter, frumpish, middling-magical-talent hag of a minor character that wears turtlenecks in the Summer, named Priscilla. How Jim Butcher was able to write an entire book properly spelling her name, but suddenly lost the ability to spell it when personalizing my copy, defies all logic. I spent the entire book wondering if there was some joke about weird spellings of stuff. Of course, to be fair he was trying to spell "Priscellie," which can be a bit more confusing. Oh well.

My name is great, but also freakish and confusing! Woohoo!

Labels: dresden files, me, open letters


Priscilla said at 10:48 AM
3 comments




Wednesday, March 14, 2007

---





EEEEEEEEEEEEEEEEEEEEEEEEEE GOT

WHITE NIGHT

!!!!! 19 days in advance, BOOYEAH!

And good LORD did Jim

butcher

(yay for real-life Tom Swiftys!) the spelling of my name. XD

Labels: dresden files, nerd glee


Priscilla said at 4:45 PM
4 comments








Holy cow. Just talked to the girl I bribed into getting me a copy of

White Night

(the newest

Dresden Files

novel, due out in three weeks) super-early, and IT SHOULD ARRIVE TODAY!

*dons SplatterCon!!! shirt*

Labels: dresden files, nerd glee


Priscilla said at 10:46 AM
0 comments




Tuesday, March 13, 2007

---





I finally put the finishing touches on my massive NYCC post. Check it out

in my LJ

!

Labels: cons, dresden files, i heart fandom


Priscilla said at 2:33 AM
0 comments




Friday, March 02, 2007

---





The product of 12 1/2 hours in the animation lab can be found

in my LJ

! My demo reel, plus a revised version of the Bob animation I did last summer.

Comment, comment, comment! And someone please hire me!

Labels: art, demo reel, dresden files, someone please hire me


Priscilla said at 12:59 AM
1 comments




Monday, February 26, 2007

---





Got back from New York Comic Con late last night! It was sooooooo fun, but I am sooooo exhausted. Setting up a meeting with my advisor at 10am the next morning was stupid beyond belief. Zzzzzzzzzzzzzzzzz.

I posted a lot of costume- and Dresden-related pictures

here

, plus a little bit about meeting Jim Butcher and Paul Blackthorne

here

. Full con report coming after I sleep for a week, waking up briefly to take the Midterm From Hell on Wednesday and write a paper for Friday.

Labels: awesome, dresden files, nerd glee


Priscilla said at 9:34 AM
6 comments




Thursday, February 22, 2007

---

Oh my god oh my god oh my god!
I'm currently investigating as to whether it's fake. I don't want to do anything that might jinx this spontaneous wellspring of good luck in the eyes of the Gods of Spite, but I also don't want to get taken for a sucker.

Edit: Curses. I can't verify it either way yet, but I have a sneaking (okay, less sneaking and more clomping around in hobnailed boots) suspicion that someone is trying to fleece me. Also, the guy emailed me back saying my price is $120, which NO WAY am I going to pay. I contacted eBay security and they're going to look into it.

I'll keep you guys updated. At least my wig looks cute, if totally inaccurate. And hey, I've already found a way to use my super-connected ninja fan powers to get a normal copy of the book in just over two weeks--nearly a month before street date.

Oh, and related: the

first two of three White Night sample chapters

are up on Jim's site.

Labels: dresden files, omgwtfbbq


Priscilla said at 4:13 PM
0 comments




Monday, February 19, 2007

---





Rules of Engagement

. Oh, wow. YES, Dresden TV, YES. It's like all the naysayers in the fandom cried out, and were suddenly silenced. Silenced by AWESOME. Delightfully pervy Bob, actual magic, the frying of technology... et cetera, et cetera, et cetera. Book!Harry would have come up with something more clever than "Mr. Crispy," but I appreciate the effort. :D

Yayfun!

Labels: dresden files, nerd glee, tv


Priscilla said at 12:38 AM
0 comments




Saturday, February 17, 2007

---





EEEEEE! A friend of mine who is Connected Liek Woah just hooked me up with the 67-minute cut of the unaired pilot of

The Dresden Files

, and I have to leave in five minutes to teach a 2-hour tutorial on making a Demo Reel in After Effects. I LOVE YOU, UNIVERSE, but your timing could be better!

Labels: dresden files


Priscilla said at 12:35 PM
1 comments




Wednesday, February 14, 2007

---

My god!
American Idol
next door sounds like a yowling cat. I want to knock on his door, then when he answers it, throw an old boot at him.
Looking through my latest posts, I see I have not properly documented this boy's exploits. I can summarize in a few simple points. He:
Couldn't hit a high note even if a friend held the high note still, so that it couldn't fight back.

Could probably carry a tune in a bucket, but at least half of it would slosh over the sides and fall in the mud.

Has been singing "Hallelujah" almost nonstop for the past week. Dude, I can deal with you singing badly, but you do NOT get to do so with that song.

Has so far ignored *two* of my requests to please go downstairs to one of the soundproofed music practice rooms if he's planning on singing another 20-30 minutes straight. That's what they're FOR.

Used to have a Rick Santorum sticker on his door. Just saying.
Anyway.

For the handful of Dresden fans in my readership, they posted

Chapter 1

of

White Night

on Jim's website.

And

OMG, my childhood! Salute Your Shorts

and

Legends of the Hidden Temple

t-shirts!

Labels: dresden files, grr argh


Priscilla said at 8:34 PM
1 comments




Saturday, February 10, 2007

---





Renata: N. This is what we call a "ghost post." I am blogging from beyond the grave!

So. *cackles* So much love for all the ridiculous similarities between

The Dresden Files

and

Psych

. As I pointed out before, both series already have a smartass private detective with apparent supernatural abilities, brought in as a police consultant by a blonde cop named Karen. But in tonight's episode? Juliette wears a necklace remarkably similar to TV Murphy's. I am so easily entertained.

There was a brief island of squee earlier this week when I bid on an Advance Reader's Copy of the next Dresden book,

White Night

. I knew going in that there was no way I was going to get it, because in the past they've always sold for over a hundred bucks (which I wouldn't pay even if the book was printed on solid gold. Well, okay, maybe then). Still, there was a lovely nine hours last Sunday when I could pretend it was mine. 7 weeks to go! (Edit: the auction just ended, and it went for $192.50. Some people have too much money.)

I got out of the dorm more this week, despite the bitter cold. During the month of February, Penn has a series of events for the seniors almost every night, collectively called "Feb Club." Tuesday night, a group of friends and I went to the trendy, pan-Asian restaurant Pod for drinks. We each had one, over the course of an hour, and I was amused that I wasn't even tipsy, unlike some of my friends. I've never had enough alcohol at one time to actually get drunk, and I was curious to see if I'd inherited my mom's lightweightedness, but I guess not! I'll still be very careful until I figure out exactly how my body reacts to alcohol, though, because I am not an idiot.

Thursday, I went to Ko's play, which was utterly hilarious. It was put on by the English department, and it was a series of three scenes from different plays, on the theme of unrequited love. Ko played a housewife having an affair, and she gave what was easily the funniest performance in the show (well, with the exception of Professor Rachetti, who played a Puck character through all three, and was brilliant). Ko wins!

Last night, I saw

The Vagina Monologues

(also known as

The Hoohah Monologues

among conservative idiots), which was excellent. Sterling performances all around: some hilarious, some insightful, some devastating.

So apologies for not posting in forever. Here, have some funny stuff!

Kat: ....YES JOHN BARROWMAN SCOTTISH ACCENT *melt*

Me: YESPLZ

Kat: [as Maggie, her gay RPG character] I would totally turn straight for John Barrowman.

Me: I would turn gay so I could turn straight for John Barrowman.

Kat: John Barrowman is definitely worth changing sexual orientations more than once for.

Also, Will linked me to

this great article

on

The Onion

. I would totally vote for him.

Not funny, but fangeekish:

Drive promo, focusing on Nathan Fillion

!

Labels: dresden files, drive, john barrowman, nathan fillion, psych, tv


Priscilla said at 3:19 PM
5 comments




Sunday, January 28, 2007

---





Yes.

That's

the episode Dresden should have started with. Much better than the other! It's far from "great," but at least it wasn't actively bad. Good snark, good perviness from Bob, and significantly less deus ex machina-esque (yet still annoyingly contrived) weapon for Harry. We actually saw Harry doing some magic, which was nice, and the most galling break from canon was the notion of Harry actually eating vegetables on purpose. The writers still have quite a ways to go (Lesson One: The audience is not stupid. A toddler could solve these mysteries), but for now, I approve.

Plus: holy shamoley, Batman! They were laying on the Harry/Murphy shippage like icing on an expensive cake! On a scale of one to "Something Borrowed," it was at least an 8.7, and that was from the Russian judge. No wonder Valerie was comparing their dynamic to "Moonlighting." Now let's back off a bit, yes? While I love me some Harry/Murphy shippiness, I don't love two-by-fours to the cranium etched with "THIS IS WHO YOU SHOULD BE SHIPPING, KTHXBAI."

No episode next week because of the Superbowl, but the week after: BUTTERS! Complete with "I *heart* Polka" shirt under his labcoat! Gotta love those tiny details where the creative team reassures the audience that yes, they've read the books, and yes, they adore Butters as much as we do.

P.S. Did people see MiniMurphy's crayon drawings hanging in Murphy's desk? That was adorableness squared. And the batty evidence cop was hilarious! I hope we hear from her again later this the season.

Labels: dresden files, tv


Priscilla said at 10:20 PM
0 comments




Okay, Dresden premiere. I ended up watching it twice, the first as it aired then again the following afternoon. The first time, I thought it was awful awful awful, with the only redeeming aspect being Valerie Cruz's surprisingly spot-on Murphy. But between viewings, I talked with fellow fans and we worked out what changes bothered us and helped each other get over them. When I saw it the second time, I felt less frustrated and much more confident about the direction the series was taking the characters, though I still felt the writing itself was weak. Also, the magic. It is not Dresdenverse magic. This is
ranted about
discussed
definitely ranted about later in the post.
THE GOOD:
Murphy. SQUEE. Going into the show, Murphy was the character I was most wary of. They'd had to change her name for legal reasons (apparently there actually is a Karyn Murphy at the Chicago PD, so "Karrin" became "Connie"), and then there was the whole casting switchup, where the actresses they found to play Murphy and Susan ended up being better-suited for the other's role, then the bomb Valerie dropped a week before the premiere, mentioning that TV-Murphy had a daughter, whereas book-Murphy divorced her second husband largely because she didn't want kids. But then the actress was awesome, so Priscilla is happy. In spite of all the changes, she came across as most like her book counterpart! I loved her annoyed banter with Harry, and I love that she called him out when he wasn't behaving. I look forward to her slamming Harry into the hood of a car for hanging up on her, because he kind of deserves it. :D


The Ravens sitting around and watching the kid eat an ice cream sundae, with the dramatic music preceding the offering of the whipped cream. Pure book-style humor. Loved it. My friends and I have named the lead Raven "Quoth," with the option title of "Lord Quoth of the Cream that is Whippèd."


Terrance Mann. I had many issues with Bob, but they're all script-related. Terrance Mann himself is great, and I certainly would not mind Bob belting 16th Century showtunes, thought I'd rather hear him sing "Where's the Girl?" from The Scarlet Pimpernel, because it makes me think bad thoughts. On second thought, though, I should just stick to my CD. Thinking bad thoughts about Bob is icky.
THE BAD:
The Story. First off, this episode was clearly never written to be a first episode, and I'm wondering what on Earth possessed the higher-ups that they needed to ditch the two-hour pilot. Okay, so they replaced a bunch of the actors in the interim (Bob, Justin, and Ancient Mai--which it turns out is pronounced like the month and not like the possessive pronoun, but I digress), so they had a lot of reshooting, but bah. They should have started filming earlier!

Anyway, back to this episode. The flashback structure of the episode was totally wrong for a premiere. They would have done better in, say, the third episode of the series. And what do you know, the episode number is 1x03? Also, regarding Bob, I wish his character could have been better-established before we learned of his DUBIOUS MORALITY and DARK PAST. This was like "Dead Beat" Bob. Except how his personality bears no resemblance to book-Bob, whom I miss terribly.


Harry. Paul Blackthorne acted the part quite well and there were only a couple tiny moments where his accent twigged me, but I didn't like the way he was written. Not nearly enough snark, and a bit too much jerk and preoccupation with money. Sure, he has plenty of curmudgeon-y moments in the book series, but we get the full range of his personality over the course of the book, whereas we only got one sliver in this episode. Feh.

Also, wee!Harry's threat to the thing that killed his mother scared the heck out of me. I guess in the TV-verse, Maggie didn't die in childbirth, even though that's what SciFi has been saying in the press pack series synopsis. Or rather, I guess that in this world, Harry and Colm know early on that it wasn't the act of childbirth that killed her, rather than Harry finding out in the fifth book of the series. Boooo, unnecessary canon changes!


I'm lukewarm about Malcolm Dresden, or "Colm" Dresden as he's called here. It completely turns book canon on its ear for him to know about magic, which I wouldn't mind normally, but to have him warn Harry to always stay below the magical radar and not let others find out about his powers seems reeeeeaaally hypocritical for Harry when he grows up and advertises his wizarding abilities in the phone book. Poor decision, writing team.


Uh, is this Harry even capable of defending himself? I would have liked to see Harry *start* to do something to protect himself before he gets his rear end kicked by the skinwalker.


The Skinwalker. Yawn. Actually, not yawn. ZZZZZZZZ is more like it. They kept talking about how scary she was, and I can see how she would be, but I just didn't feel it. And Harry's wards were a joke.


Melissa. Awkwardly written, and ultimately I couldn't care less about her death. Bob's suggestion to consult her reminded me of Serenity's equally poorly-transitioned "We should talk to Mr. Universe!" I miss the Archive.
THE UGLY:
Bob's Deus Ex Gamecube of Doom. Not endearing the writing team to me by any stretch of the imagination. Apparently "doom box" was supposed to be a pun on "boom box," but THEY DIDN'T HAVE BOOM BOXES IN THE 16TH CENTURY WHEN BOB WOULD HAVE WRITTEN HIS FIRST GRIMOIRE. Also, in today's society, you're just not allowed to use the word "doom" any more in a non-ironic way. Robert [Wolfe, one of the producers] has said on the boards that the episode ran long and they had to trim bits that would have made it less plot-devicey and appalling, but meh. It doesn't change the fact that it was lamer than a duck with no legs.


The Magic. It's just is not Dresdenverse magic. One of the things I love most about the magic of the book series is that it makes sense. It's all about physical and mental connections and associations. There's also a fair share of blasting monsters with fire or wind, but there's no hocus-pocus, wandwaving, "aha, I have transfigured this badger into a teacup and levitated this pouch of Snausages" kind of magic. It's more a matter of manipulating forces and focusing energies. If Harry makes something move, it's more along the lines of Storm rather than Jean Grey. He doesn't defy gravity, he manipulates the air currents into moving the object. I could go into Dresdenverse spellcasting the differences between evocation and thaumaturgy, but this post is already long enough.

Also, there's no "If I combine three eyes of newt with burba weed picked three days before the full moon by virgins and stir counterclockwise, I will make a fabulous tonic similar in effect to Nair." Whereas in the Dresdenverse, "Potions are all made pretty much the same way. First you need a base to form the essential liquid content; then something to engage each of the senses, and then something for the mind and something else for the spirit. Eight ingredients, all in all, and they're different for each and every potion, and for each person who makes them." It's all very deliberate and logical. When I read Harry Potter, I ask myself who on Earth could have come up with these potions and spells? One slightly wrong move and you nearly kill Neville's toad. When I read the Dresden Files, I think "of course. That's how magic works." In short, book!kid!Harry could not levitate a metal ring from across the room.


So the TV magic loses everything that distinguished the magic of the books. Well, it's about to go further. I read a post from Robert on the boards today that "It was decided not to use "magic words" since it felt too reminiscent of Harry Potter. There will definitely still be spells, including flying staffs and fire blasts and such. Just not with the words."

AAAAAAAAAAAAAAAAARGH. It's not like Potter is the first wizard to use spellwords. It's times like these that make me almost wish the PTB *had* changed Harry's name to Eric for the TV show, so people would be less inclined to make comparisons between the two series. (Re: Erik, Harry Dresden was named by his stage-magician father for Harry Houdini, but in the wake of Pottermania, the PTB considered changing his name to Eric to discourage comparisons, as Houdini was born Erich Weiss) Maybe if they kept the distinctiveness of Dresden's magic and didn't turn it into the common Potter-style magic swill, people wouldn't be inclined to make that connection! And no matter how clever the etymology, no Potter spell could compare with Harry's spell for lighting candles: "Flickum bicus." Of course, it took me several months to get the joke, but that just made it funnier.
And this post totally devolved into Reasons Why The Dresden Files Book Series Is Awesome (and why I'm becoming increasingly disenchanted with Harry Potter), but I don't care.
I use this icon in righteous indignation. For those with weak vision and/or high-resolution displays, it reads "

Unleash Nerd Fury

." Oh, the Colbert Report! You wouldn't wreak havoc with one of my favourite book series and turn it into badly written, near-unrecognizable sludge! And I think I need to talk with my friends again about not getting worked up over the changes they made from the books to the show...

And the sad thing is? At least for the time being, I'm going to keep watching.

Labels: dresden files, harry potter, nerd fury, tv


Priscilla said at 12:39 AM
4 comments






All content © 2000-2005 Priscilla Spencer unless otherwise noted.
Title cartoon by Bruce Eric Kaplan, used without permission.