Tuesday, May 20, 2008

---





Tonight, I'm taking a bus to D.C. for a spontaneous day trip! As tomorrow's weather looks ominous, I'm planning to take the MUSEUMS! route rather than the MONUMENTS! route. Fred has been gathering recommendations

here

. So far, the International Spy Museum is sounding the most appealing, but I am also drawn to the Mall's sheer concentration of awesome museums. I'll have to research more this afternoon.

To catch up on my blogging: Friday night, I went on a date that included food and

an Improv Everywhere event

. Alex and I were both excited about it, but the event ended up crashing and burning. The idea was cool, but it was raining, and the IE folks had difficulty coordinating everything, and we ended up standing out in the rain and wind with an inadequate umbrella on the middle of the Brooklyn Bridge for an hour and a half. My light jacket wasn't really up for the chore. And the umbrella broke from the wind ten minutes before we left, so we got soaked. When I got home and saw myself in the mirror, my skin was bloodless white. I looked like a consumptive waif. I had to sit in a hot bath for twenty minutes before I felt like a human again.

Yet shockingly, I had a great time. The dinner beforehand was excellent (Thai!), and conversation was fun. We're never short of fodder for discussion, and he's just the right amount of geeky that I feel neither like a hopeless dork nor somehow inadequate in my geekishness. And Saturday, Alex is going to cook dinner for me, so I call this major win. :D

Linkspam:

Obama Adopted into Crow Nation

. I. Love. This. Man. Can he be my president RIGHT NOW?

Steven Moffat to be Doctor Who Lead Writer and Executive Producer

! YEEE!

Two new videos

from Potter Puppet Pals!

Cover for Pterry's upcoming

Nation!

Awesome photo series of

Children's Drawings Brought to LifeBen Stein: Science Kills

. Good thing religion has never killed anyone, am I right?

Pretty sweet: Animatic version of

the first issue of Joss' "Astonishing X-Men."

Excellent article:

Your Friends Are Not Watching the Same Show You Are (And That's Okay)

.

And a new

FotC music video

.

Labels: doctor who, flight of the conchords, harry potter, joss whedon is my master now, linkspam, obama is awesomesauce, stupidity, terry pratchett


Priscilla said at 1:54 PM
1 comments




Thursday, May 08, 2008

---





So! Flight of the Conchords!

(For my parents and for any

fools

people who haven't seen them yet, watch the following:

The Humans Are Dead

(Live),

Business Time

(Live),

Bret, You've Got It Going On

,

The Sello Tape of Love

, and

Albi the Racist Dragon

to get a feeling of who these guys are. Then rent/buy

Season One

of the TV show and laugh until you cry.)

My seat was pretty good, especially considering that tickets sold out in like twelve minutes and I logged on five minutes after they went on sale. I was smack-dab in the center, about three-quarters of the way back on the balcony. Nice! Or at least, it was nice until Hagrid's big brother sat down in front of me. I was practically sitting in the lap of the person next to me, to see around him.

The show was fabulous! They played all of my favourite songs, with the exception of "Bret You Got It Goin' On," plus several hilarious new ones. I feel like there were three, but I can only remember two: one featuring a chorus of Jemaine's ex-girlfriends, complaining about what an awful boyfriend he is to some girl he's just met, and the other an uproariously funny list of "freaky" kinks.

The only downside was the sheer number of jerks in the crowd. People were really, really obnoxious about shouting out song requests, especially this one girl in the front of the balcony, who kept shouting things at the guys for the sake of getting attention. After Jemaine politely shushed her the fifth or sixth time, she contented herself with merely standing up periodically and dancing to the music--I think she was drunk, actually. I'm surprised she wasn't muscled out by the security folks twenty minutes into the show.

As for the after-show... I think my parents named the wrong daughter "Melissa," because I really felt I should be answering to "Mel." :D I did the "wait outside the stage door for an hour" thing, befriending three other Conchord fans in the process. I noticed early on that--much to my chagrin--I accidentally left my camera battery in the charger, so I used the dinky camera in my iPhone (hence the shakiness of the photo of Bret) and relied on one of my new friends, who had brought a camera. Hopefully, she'll send me the photos in the next few days!

When the boys finally came out, they were obviously exhausted, but they still stayed outside long enough to ensure that they'd signed stuff for or taken pictures with everyone that wanted it. And there were like 40 people! Pure class.

Altogether, not a bad way to spend a Wednesday evening. :D

Labels: flight of the conchords


Priscilla said at 12:22 PM
3 comments




I stand corrected.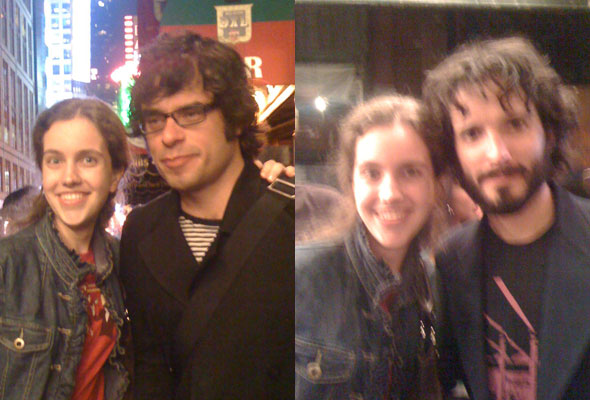 Your jealousy smells like

Marmite

. It's more New Zealand-y that way.

I accidentally left my camera battery in the charger this morning, so these are a couple taken with my iPhone. Another girl waiting with me at the stage door got some better ones of us--I just had to post these now!

P.S. Who knew Bret was tall? He seems so much shorter on TV. And the picture of me with Jemaine, without him realizing a photo is being taken, is a rival for the title of my favourite photo of me ever. Me geeking out, while the object of my geekery looks like he would rather be somewhere else... It should be in the Great Internet Dictionary under "Fangirl."

And now it's time for bed.

Labels: flight of the conchords, nerd glee


Priscilla said at 12:56 AM
2 comments




Wednesday, May 07, 2008

---





Off to see Flight of the Conchords!

Your jealousy smells like a fresh, ripe orange.

Labels: flight of the conchords


Priscilla said at 6:30 PM
1 comments




Monday, April 07, 2008

---





Flight of the Conchords

tour dates announced! I am so there. Who among you Northeasterners are with me?

Labels: flight of the conchords


Priscilla said at 5:56 PM
1 comments




Thursday, March 13, 2008

---




Priscilla said at 11:05 PM
1 comments




Friday, September 14, 2007

---





So! Catching up.

I'm almost done with living out of suitcases! My last piece of furniture, a chest of drawers, will arrive this Sunday. This past weekend, I gained a desk, a headboard, a bookshelf, and a massive TV and a lovely dinner table for the common room. WIN!

While I wasn't waiting for stuff to get delivered this weekend, I was tromping up and down the city looking for clothes and ideas for a new costume. A new costume! I have a goal! Time has meaning! For

PhauxCon

's McAnally's Costume Shindig, I'm going as Maeve, the Winter Lady from The Dresden Files. Ever since I first read her description in

Summer Night

, I've longed to make her costume, and now I'm going to!

The chief draw is the wig I'm going to make: "Her hair had been bound into long dreadlocks, each of them dyed a different shade, ranging from a deep lavender to pale blues and greens to pure white, so that it almost seemed that her hair had been formed from glacial ice."

*gurgles*

I just got the base wig last night--waist-length and white with long bangs--and it's so pretty that I almost feel bad that I'm going to dred the heck out of it. Ah well! It's going to be aaaaaawesome when it's done! I bought three skeins of gorgeous Colinette wool yarn, dyed just the way I picture Maeve's hair to be:

one

,

two

, and

three

.

Her general attire is a bit skankier than I want to play her, so it'll be a challenge to design a new outfit for her. I found a gorgeous, subtly shiny, ice-blue pashmina wrap that I'm going to pin strategically to a bra and wear like a draped, toga-ish top. Not sure how to better explain it, but it looks fantastic.

As for the bottom... no clue. Massive combat boots or tall Doc Marten-y type boots are a must, because that's just the kind of

person

Sidhe she is. I like the idea of a blue camo miniskirt with white fishnets or sexy, similarly patterned cargo pants, but I've been so far unable to find anything that fits this mental image. I have a few leads to pursue this weekend, though, so I might not have to give up on this concept. The big challenge is finding something that works with the elegance of the top, but also expresses her rebellious, punkish, sexy attitude.

Then there will be white/silver mascara and crazy eye makeup and maybe some sort of body painting involved, depending on how much time I'm going to have to get ready.

Speaking of

PhauxCon

, today is the last day of Early Bird Registration! After midnight tonight, the price will go up from $50 to $60. Then after October 4th, any remaining tickets will be sold at the door for $70. Registration is also open for Friday's dinner with Jim and Shannon Butcher and Sunday's writers' brunch. Details in

the LJ

!

I leave you with a fantastic BSG crackvid to Flight of the Conchords'

The Humans Are Dead

. YES.

Labels: bsg, costuming, dresden files, flight of the conchords, moving, phauxcon


Priscilla said at 11:07 AM
1 comments




Saturday, August 18, 2007

---





Want to check out the hilarious

Flight of the Conchords

, but can't be bothered to download the episodes online? Good news! They're all streaming at

AllFotC.com

.

Give in to the kiwi goodness!

Labels: flight of the conchords, tv


Priscilla said at 11:37 AM
1 comments




Tuesday, July 31, 2007

---





*laughs* Oh, win!

Bryan Fuller said at Comic Con

that a musical episode of Pushing Daisies is "inevitable." For a cast that includes Kristin Chenoweth and Ellen Greene? Yes please! :D

I've now seen the pilots of

Pushing Daisies

,

Chuck

, and

Reaper

. All three were lots of fun! I feel good about this new fall season. Half of the shows I watched last year were canceled (

Veronica Mars

,

Drive

,

Studio 60

, and you know

The Dresden Files

was canceled even though they haven't made a formal announcement), so I have some nice openings in my schedule!

Chuck

was delightfully geeky and has Adam Baldwin, but

Jake 2.0

did it better. I'll probably watch the next couple episodes, but the pilot didn't really grab me. I'll probably pass on it.

Reaper

was absolutely hilarious, and I look forward to seeing if the next batch of episodes can match the pilot's evil brilliance when they aren't directed by Kevin Smith. Could go either way.

Pushing Daisies

was a treat. I understand the network was looking for a show with a fairy tale sensibility and an

Amelie

flavor, and I'd say they succeeded. It could run the risk of becoming too cloying and cutesy, but I'll trust in Bryan Fuller's genius to keep it from stepping over the line. Oh, Bryan Fuller! My heart beats! You co-gave me

Wonderfalls

and

Heroes

, and for that you win my eternal gratitude and love.

For those curious, I'm currently watching

Burn Notice

and

Flight of the Conchords

. If you're not watching FotC, boy are you missing out! All my coworkers are obsessed with it, so sometimes I forget that other people aren't as crazy about it as we are. It follows the adventures of a folk duo from New Zealand as they seek to achieve fame and success in New York City, and it's pretty much the funniest thing ever. Every episode is chock-full of musical interludes, for example:

The Humans Are Dead

and

It's Business Time

. Also John Hodgman cameoed in a recent episode! Waaaatch iiiiiiiit.

And finally, Japan brings us

Human Tetris

.

Labels: bryan fuller, flight of the conchords, john hodgman, pushing daisies


Priscilla said at 9:33 AM
3 comments






All content © 2000-2005 Priscilla Spencer unless otherwise noted.
Title cartoon by Bruce Eric Kaplan, used without permission.