Tuesday, November 17, 2009

---

The time is finally upon us! Check out the map I illustrated for Jim Butcher's
First Lord's Fury
, which hits stores November 24th. For those new to my mapsquee, FLF is the sixth book in the internationally bestselling fantasy series The Codex Alera. I'm so thrilled to be a part of it.
Download the map as desktop wallpaper in about every desktop size imaginable: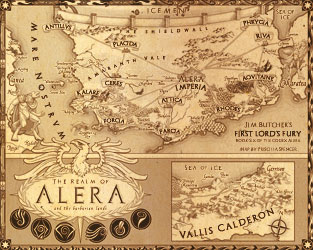 800x6001024x7681280x8001280x10241400x9001600x12001920x1200

I'm eager to hear your thoughts. :D

Labels: art, dresden files, jim butcher, map glee


Priscilla said at 10:18 PM
2 comments




Thursday, August 06, 2009

---





Twitter is down. Where do I go to flail about this in 140 characters or fewer? Oh yeah, I have a blog!

So. My Epic Comic Con Post of Epicness has taken a back seat to a far more pressing deadline. Rather than merely plotting out the skeleton of the map to be printed in

First Lord's Fury

, book 6 of the Codex Alera, I'm now illustrating the finished product! My artwork is going to be published in tens of thousands of copies of the landmark final novel in an internationally bestselling series. And I'm being paid considerably more than the figure I originally ballparked when pitching the map idea to Jim and the Penguin folks.

No pressure. :D

Needless to say, I'm thrilled beyond belief. Thrilled and intimidated. Thrilled, intimidated, and flattered,

and filled with almost fanatical devotion to the Pope

. Not only is it a huge responsibility, but it's a staggering vote of confidence in my abilities as an artist. Someone whose opinion I respect had such faith in my skills that he felt I was the best choice for such an important job. Wow.

Jim and I were tossing ideas back and forth last night, and I felt positively giddy at what we were coming up with. It's an inspiration, collaborating with such a creative mind. There's so much I want to include! Jim essentially told me to pull out all the stops, and that's what I'm going to do. I can't wait to prove myself worthy of this honor.

Labels: art, awesome, jim butcher, workin' hard for the money


Priscilla said at 1:52 PM
3 comments




Sunday, April 05, 2009

---




Priscilla said at 11:06 PM
0 comments




Friday, April 03, 2009

---





I posted a bunch of photos from the Museum of Natural History in

my LJ

! Check 'em out!

Labels: art, photography


Priscilla said at 2:30 PM
0 comments




Monday, March 23, 2009

---

I posted a massive number of new photographs in my
LiveJournal
! Check 'em out!
Labels: art, new york is awesome, photography


Priscilla said at 6:24 PM
1 comments




Friday, August 29, 2008

---





Linkspam!

India's poor urged to 'eat rats'

And an even more brain-injuring political move: A McCain advisor seeks to

solve the health care crisis through semantics

. I did a double-take, convinced I was reading an

Onion

analogue.

Illustrating and cartooning blog Drawn! posts some

excellent Ronald Searle

-

related

links! So much love for Ronald Searle! Anyone that hasn't read

Molesworth

is missing out on something extraordinary.

Aaron Sorkin writing movie about

Facebook

. My face looks like this: o_O?

Biden:

"Think About It"Chris Crocker's soulmate in an angry rant against the Twilight haters

Labels: art, linkspam, obama is awesomesauce, politics, tv, wtf


Priscilla said at 5:02 PM
0 comments




Saturday, April 19, 2008

---





*snorks* I was cleaning out my bookmarks the other day, and I found

this article

. Nice job finding artwork relevant to the comic itself, instead of fanart. By me. Displayed without credit. :D

Labels: art, dresden files, epic fail


Priscilla said at 8:15 AM
2 comments




Thursday, November 15, 2007

---





Oooh,

artist love meme

in Glock's LJ! Give me love, and let me know when you add yourself so I can give you love in return!


Priscilla said at 3:55 PM
0 comments




I've finally gotten around to posting my artsy photos from the massive Sappy Lincoln Narratives road trip, from the beginning of this summer. Maybe someday I'll actually write a blog entry about it! See photos from Dinosaur National Monument, Arches, Mesa Verde, The Grand Canyon, Antelope Point, Zion, Grand Canyon Caves, and Havasupai!


Clicky!

Then hurrah, the Doctor Sketchy's tradition continues! See my drawings

here

!

Labels: art, dr sketchy, photography, sln roadtrip


Priscilla said at 1:51 PM
1 comments




Sunday, October 28, 2007

---





Two new creative-type posts in the LJ: a delightfully silly round-robin

Dresden/Discworld crossover

for Becky and a

bunch of doodles

from a figure drawing session at

Dr. Sketchy's

!

Labels: art, discworld, dr sketchy, dresden files, fanfic


Priscilla said at 3:19 PM
1 comments




Tuesday, April 24, 2007

---

My senior project presentation absolutely rocked! My advisor wants to use it as an example to future students. I kind of win. :D
This video
of the thigh model in action only represents half of the project, but still. Preeeeetty. Press Ctrl+L in Quicktime to loop it! I could watch it for hours. XD
For those keeping score at home:
Senior project slides due the 18th


Massive sci-fi final exam from hell the 18th

Sci-fi paper Friday

Animation critique the 20th

Senior project presentation today

Psych paper Wednesday

Massive computer science project (ray tracer from last semester) due the 1st

Psych final exam the 3rd

Final Animation project due the 4th

Sleep at some point
Labels: art, I win at academia, omg teh angst


Priscilla said at 12:30 AM
1 comments




Friday, March 02, 2007

---





The product of 12 1/2 hours in the animation lab can be found

in my LJ

! My demo reel, plus a revised version of the Bob animation I did last summer.

Comment, comment, comment! And someone please hire me!

Labels: art, demo reel, dresden files, someone please hire me


Priscilla said at 12:59 AM
1 comments






All content © 2000-2005 Priscilla Spencer unless otherwise noted.
Title cartoon by Bruce Eric Kaplan, used without permission.