Saturday, February 14, 2009

---





I need to get back in the swing of blogging. The sheer length of time I've gone on Twitter alone is unspeakably lame, and friends and family alike are becoming increasingly frustrated with the prolonged string of half-indecipherable, 140-character hints of what's going on in my life. So here's what's been going on lately!

Work:

A couple weeks ago, I was moved to the back room. While it's tragic that I am no longer sitting near Tommy, an endless fountain of amusing non-sequiturs, I am now blessed with WINDOWS. My stir-craziness factor has diminished significantly. The windows look out onto the uninterrupted brick siding of another building some twelve feet away, but I nevertheless revel in the occasional birds, diffused sunlight, and glimpses at the actual weather conditions my beloved window offers.

The reason for the move is to reflect a change in the structure of the company. We now have a separate Asset Department responsible for characters and props. Previously, animators were responsible for making their own props. Character folks (like me) have always been separate. Once the few hiccups are ironed out, it looks like this system is going to be a lot more efficient. Yay efficiency!

I have also been named Texture Tsar (okay, that's the name I made up, but it's more fun that Textures Lead or whatever the official title was), so I'm getting tasked with occasional opportunities to step out of Character Land and do some serious Making Stuff Pretty. Yay variety! And as far as the characters go, we're in the process of bringing their quality up another notch, as well. I'm very pleased with the direction we're going!

Litra-chur:

My beloved Kat, who has exquisite taste, has finally pushed me over the tipping point with regard to Lois McMaster Bujold's Vorkosigan saga. She lent me the first omnibus at the end of last summer, which I read at a snail's pace despite my enjoyment of the stories, but only recently did I delve headfirst into the series. I got the rest of the books in audio format and plowed through nine books and three novellas in the past 2 1/2 weeks. I'm almost nervous to start the final book, because I'll once again be faced with the dilemma of what to read next.

I can feel myself getting sucked into the Reread Rut, as I'd like to reread

Princeps' Fury

to refresh my beta-memory as Jim pens

First Lord's Fury

, and I'm thinking a reread of

Watchmen

is in order before the movie comes out, and I definitely want to reread

The Name of the Wind

before its sequel hits stores on April 7th, and gah. I can't let myself get boxed in with rereads! Gotta discover something new!

Fandom:

This past weekend, I went to New York Comic Con. I had a fantastic time! Friday night, I assembled a crowd of folks from the Jim-Butcher.com forum for dinner at Brother Jimmy's BBQ, which was quite a hit! In attendance were my forum/IRL hybrid friends Craig, Shecky, and Sue, plus forum members Mark and Allison, a fantastic Harry cosplayer I met at San Diego Comic Con named Matt, and Matt's friend Jerry. The Dabel Brothers crew was going to join us, but they had some last-minute business that ran long, so they were only able to stop by a few minutes. Afterwards, we huddled in Penn Station, dodging zambonis and homeless people, for a reading of the first chapter of

Turn Coat

. It was a great start for a delightfully geeky weekend!

Saturday, I donned my Molly costume and hooked up with RPG pal John to meander about the con. We first checked out a fight choreography demo by the Vampire Cowboys, a theatre troupe that performs original, cross-genre plays with a strong stage combat element. I saw their previous show,

Fight Girl Battle World

, twice last year, and I can't wait for the opening of their newest creation,

Soul Samurai

! I'll have to get a big group together.

Afterward, John and I did some browsing/people watching as we waited for the others from the previous night's group to arrive. I stopped by the Penguin table to chat with Anne Sowards, Jim's editor, who gave me a bunch of Dresden buttons to give away on the website. I'll have to figure out a fun way to determine who gets them! Meanwhile, John geeked out at the neighboring booth, belonging to Phil Foglio, when a group of fans arrived in glorious

Girl Genius

cosplay.

We then swung by the Comic News Insider booth, in hopes of seeing Kristin and Jimmy. Jimmy is one of the co-hosts of the show, and Kristin had volunteered to booth babe for a time, but Kristin had something far more nefarious up her sleeve! At cons, Jimmy makes a point of dressing in pinstriped vests, going so far as to accuse those similarly attired of "stealing his look." Because we are pure evil, Kristin and I conspired to dress Kristin in Jimmy's con uniform. Unfortunately, Jimmy wasn't there at the time, but I got to greet Kristin and admire her uncanny resemblance to the absent friend.

Next, John and I stopped by the DoctorWhoStore.com booth, where 6th Doctor Colin Baker was wrapping up his signing. I snagged one of the Big Finish audios for my Who-obsessed friend Kat, autographed by the good Doctor himself, and got a picture with him, in which he looks like my cute grandpa. After Colin finished, Doctor Who comics scribe Tony Lee took the autographing table, and I got a few issues of the serial signed as we chatted. I'd gotten to meet him and hang out briefly at the CNI recording a few days prior, and we'd hit it off rather well. It was fun to see him again.

John and I also spent some time dawdling around the Pendragon booth, where Matt, Jerry, and Matt's girlfriend Nicole were working. Nicole's creations were flat-out

gorgeous

, and over the course of the day, I tried on two of the Renaissance dresses and a woman's leather duster. You bet your sweet bippy I took pictures! I feel in love with one of them, but I didn't know if I wanted to spend so much on a dress I'd only wear a couple times a year, so I elected to hold off and think about it overnight. Soon, Craig, Shecky, and Sue appeared, and we all trooped off to grab a late lunch.

The afternoon was filled with a performance by the New York Jedi, lots and lots of aimless ambling about the exhibit hall, and some chillage with the Dabel folks. Matt joined us for much of it. I finally got to meet

Dresden

GN editor David Lawrence in person, and he loaded me up with a bunch of Dabel comics and goodies. We swung back by the Penguin booth and chanced to run into Amber Benson, who played Tara on

Buffy

. We had a brief conversation, and I snagged a photo with her. What an unexpected surprise!

Toward the end of the evening, we walked by the DC booth and saw

Watchmen

artist Dave Gibbons signing posters. There was no way we could get through the line by closing time, so we resolved to bring our copies of

Watchmen

the next day to be signed then. Finally, we bade farewell to Sue, Shecky, and John, who were only at the con for the day.

Sunday morning was a source of great amusement. I awoke to find a pair of text messages on my phone, one drunken missive timestamped around 3am, waxing lyrical on my finer attributes, and another around 8, apologizing profusely. I will not disclose the identity of said individual, because I am not a cruel person, but suffice it to say, it was hilarious.

Dressed as Delirium, I high-tailed it to the IGN Theatre, where a line was already forming for Joss Whedon's

Dollhouse

panel two hours before showtime. Because it was painfully obvious what we were all there to see, they con staff either canceled or moved the MegaMan panel that was to be held before it. In line, I met up with Craig, Kristin, Adam (host of the weekly

Pushing Daisies

viewing parties, back when that was applicable), and fellow NYC Browncoats Kathleen, Simon, and Gypsy.

The panel was a delight. Though I'd met Nathan Fillion at SDCC and Amber Benson the day before, I'd never before seen a panel with any Whedon alumni, and here was Joss himself! Also present was Tahmoh Penikett, aka Helo on

BSG

, and Matt Rousch of TV Guide. The program reported that Eliza Dushku and Dichen Lachman were also supposed to be in attendance, but any disappointment was more than compensated for when Joss revealed the first act of the

Dollhouse

pilot, which looked fabulous. I can't wait for Friday's premiere!

By that point, the con was nearly over, but I still managed to squeeze in some last-minute awesomeness. An hour before it was slated to start, we staked on spots in line for the Dave Gibbons signing. We befriended another line-waiter, who volunteered to save out spots in line so we could enjoy ourselves for said hour, and went off in search of last-minute fun. We returned to Pendragon to poke Matt, and I saw that the dress I'd fallen in love with the previous day had been sold. Guess that made my decision for me! I'm glad such a lovely dress is getting a good home.

We returned to the Gibbons table with ten minutes to spare and found an utter mob scene. The line snaked around itself four deep! They were processing fans ASAP, so there was no time for conversation with the man, but it was still cool to see him in person and get his signature in my copy of

Watchmen

.

And that was it! I was rather stunned toward the end to realize that I only attended a single panel, as I'd meticulously planned out a schedule for myself ahead of time, but when it came down to it, spending time with my friends felt like a much higher priority. I feel like a

Lifetime

movie. And now I can't wait for ConDFW the 20th-22nd!

And that's all I have to say about that for the moment. Hopefully, now that I've gotten that off my chest, I'll be able to go back to blogging about silly things?

Labels: cons, costuming, doctor who, dresden files, joss whedon is my master now


Priscilla said at 1:25 AM
5 comments




Sunday, November 02, 2008

---

Hokay! The second half of the story of my weekend!
Saturday was the last day to submit entries to the Dresden Files Halloween Costume Contest, and though I felt it was inappropriate for me to enter, I still wanted to get in on the costuming fun! Early that afternoon, I pondered over how I could pose to best depict Molly. The first thing to come to mind was to have her with the beaded leather bracelet she wore in
White Night
, struggling to move the beads up the strap with her mind. However, as I didn't have the materials and the light was quickly fleeing, I realized I would have to think of something else.
Then it hit me.
The costume I have for Molly is based on how she looks in the book
Proven Guilty
, in which she helps staff a horror movie convention called "SplatterCon!!!" Considering her appreciation of the genre, dollars to donuts she's a big fan of the Bruce Campbell oeuvre. I kicked myself for not dressing up as her the previous night when I went to see
My Name is Bruce
, losing the opportunity for a "Molly fangirling Bruce Campbell at SplatterCon!!!" photo.
But wait! All was not lost! Halloween wasn't Bruce's only night in New York! My friend Shecky saw him enter the theater around seven the previous night--what if I could catch him on his way in?
I mentioned this idea to my friends on the Jim-Butcher.com forum, and Craig (a fellow New Yorker I've palled around with on a couple occasions) volunteered to join me and bring his camera. SCORE!
Craig and I went over at 6:40, in hopes of catching Bruce before he introduced the 7:20 screening. We whiled away a significant chunk of the time laughing about how ridiculous we were being. Alas, Bruce must have gone in a different door. At 7:25, the sensible thing would have been to call it a night, but no one has ever called me sensible! Instead, we went in and spoke to the manager. I explained the situation and asked him if there was any way we could pull it off. Shockingly, he didn't gape at us in horror and tell us to beat it! He suggested we come back during the Q&A at 9 and ask Bruce if it would be okay. He even said he'd let us go into the theatre without tickets! If you're out there, Justin, you ROCK.
Craig and I went out for crepes and conversation, then returned at 8:45 to catch the tail end of the movie. At the Q&A, I explained the story to Bruce, and rather than publicly mocking me, he waved me down to take the picture! EEEEEE! He asked who I was dressed as, then asked if I looked like the character. The audience was largely silent, save for a couple smartasses who said no. (Hmph! Jim himself has [url=http://www.jimbutcheronline.com/bb/index.php/topic,7771.msg260409.html#msg260409]commended me[/url] on it!)
Alas, my camera's flash wasn't on, and Craig didn't know how to turn it on, so he took two blurry photos before Bruce humorously shoved me away for taking too long, saying "Gah,
Evil Dead IV
will be made by the time you take the picture!" I laughed and thanked him, though inside I lamented getting so far, only to be thwarted by a stupid flash.
As a last ditch effort, I talked to one of the ushers and verified which door he'd be leaving from, and we waited for him outside. I thanked Craig for the umpteenth time for indulging my insanity. Finally, Bruce emerged! "I turned the flash on this time!" I said by way of greeting, and he grinned and said "Let's do this thing!" We took the picture, and it was everything I hoped it would be, and Craig shook his hand, and then he was off! Craig and I did a little squee dance, and parted ways.
WINNERS = US!
Though I think we can all agree that the
real
winner is AMERICA.
File under: costuming, dresden files, epic win.

Labels: costuming, dresden files, epic win


Priscilla said at 10:49 PM
3 comments




Sunday, August 17, 2008

---

Link spam, spam, spam, spam, wonderful linkspam!
New York Times:
Is Jon Stewart the Most Trusted Man in America?
Photo from
Half-Blood Prince
:
The Unbreakable Vow scene
. Is it okay if I just paste photos of Lucy Saxon over Narcissa Malfoy's head in every frame of the movie? Because SO MUCH NO. I dig her coat, though. I want a coat like that.
And speaking of the Malfoy sisters, a fanart rec: Makani presents
Bella meets Bella
This Just In:
Cosplaying Makes You Undateable
! Funny that I get hit on the most when I'm dressed as a fictional character. Clearly, eHarmony doesn't understand that cosplayers generally aren't interested in dating the kind of person that would pass up on a photo of us in cosplay gear.
I'd date me.

Labels: costuming, harry potter, jon stewart


Priscilla said at 3:18 PM
2 comments




Sunday, July 20, 2008

---

Hmm. What to do when your Molly costume actually looks really cute, as opposed to Frankenhookerish?
Here's the full costume, with and without the jacket (it's going to be HOT in San Diego!), and a close-up.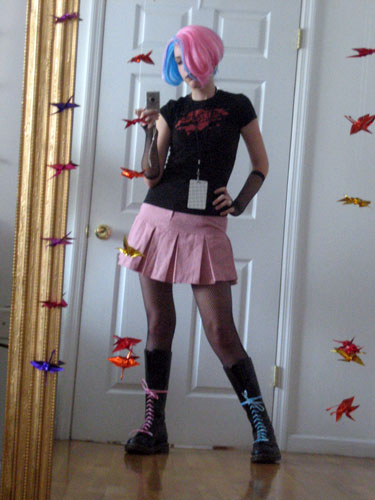 The wig is done! I initially planned to gel it into spikes, so it would look more street grungy and less like a punkish Veronica Lake, but I love the current look too much to risk screwing it up. Unfortunately, I screwed up the ratio of ink to rubbing alcohol in the dye for the blue, making it look kind of flat and gummy. I managed to fix the gumminess, but it's still not as shiny and pretty as the pink side. In fact, it looks kind of radioactive. Ah well. :D

At the con, I'll be wearing black nail polish as well, but I didn't feel like putting it on just for these photographs.

(Dear god, I want to steal that jacket. I'm borrowing it from the awesometastic Rebecca, who found it at a thrift store for TEN BUCKS, whereas it usually retails for like $80. Envy! Thaaaaaank youuuuuu, Rebecca, for lending it to me!)

Labels: costuming, dresden files


Priscilla said at 12:38 PM
9 comments




Wednesday, May 07, 2008

---





Hey, kids! It's the super-belated New York Comic Con post!

Verdict: Ridiculously awesome.

I already posted about Friday's highlight at the Gaiman panel, but here's the full account. We were let out of work early, so instead of getting dressed at the con itself, I changed in the bathroom at work, where I would have comparatively more space and privacy. Then came the fun of making my way across midtown Manhattan while dressed like the anthropomorphic personification of delirium! The number of horrified stares was far eclipsed by the number of "You go, girl"-esque responses. The most fun came when I walked past a huge gathering of people (maybe 200) in brightly-colored cultural dress from around the world. You could just

see

the "I wonder what

she

represents?" question in the kids' eyes.

I first headed to the CNI booth to say hello to Joe and Jimmy and drop off the bag containing my work clothes, and to say goodbye to Jimmy's hair. Jimmy has had long, gorgeous, Pantene-ad hair for 20 years, but he finally decided to cut it on Saturday and donate it to Locks of Love, raising over five hundred dollars for the charity in the process. More power to him! My timing happened to coincide with their first raffle, so I read out the ticket numbers for them. T'was fun!

Next, I headed downstairs to wait in line for the Gaiman event. I was nearly an hour early, yet there were already something like thirty people in line! I chatted with my neighbors and got my photo taken approximately eleventy billion times, which was all kinds of fun! Much to my dismay, I realized just how short my skirt was and how conspicuous I felt wearing it, so I decided to wear my capris underneath it on Saturday.

Neil was presaged by a hilarious short speech by Bill Hader of SNL, a huge Gaiman fan. Then Neil came out, read a pair of short stories, did the Q&A thing I recounted in the earlier entry, and read chapter 3 of

The Graveyard Book

, which is going to be phenomenal. I can't wait!

Saturday morning, I hooked up with my friend and fellow RPer John, aka The Boy, and his father and uncle. We spent much of the morning cruising the floor, hooking up with Will and his buddy Dave (one of his Beauty and the Geek co-stars) along the way. Fairly early on, we stopped by the Dabel Brothers' booth, and I got to meet the gang in person. The Dabel Brothers are the publishers of the Dresden Files comic book, on which I serve as a Thematic Consultant. Unfortunately, Ernst (eldest of the brothers and our main liason) had a scheduling conflict and couldn't be in attendance, but it was great to get to meet Derek and the rest of the team. Derek is a really fun guy and amazingly generous--when I inquired about the price of the NYCC edition of Dresden #1, he immediately handed John and me a huge stack of comics with all three editions of Dresden #1 and the first issue of their other title, Wild Cards. Woo, royal treatment!

Eventually, 11 rolled around, and we headed over to the Midtown Comic booth, where Jim Butcher was doing his first signing of the day. Jim instantly recognized me despite my insane Delirium wig (or perhaps because of it?), and introduced me to Jennifer Jackson, his agent, and Anne Sowards, his editor. My conversation with Anne was cut short by a bunch of fanboys clammoring for a photo with me (rar! couldn't they see I was occupied?), but I got to chat a bit longer with Jennifer, who is quite clearly one of the most awesome people on the planet, and who is also blessed with the ability to surround herself with similarly awesome people.

While John and I waited for Jim's signing to end at 11:30 (when the three of us would grab lunch together), he scoped out nearby booths. Unfortunately, around 11:40, when Jim and I hooked back up, John was nowhere to be seen. I left him four voicemails over the space of 11:20 to 11:40, to no avail. In the last, I told him Jim and I were headed to the food court, and to call me when he got the message.

It was a wonderful, relaxing lunch. One of the things I enjoyed so much about PhauxCon was the casual, laid-back atmosphere, but even my beloved micro-con couldn't entirely remove the faint "Jim and Shannon are the Guests of Honor" hierarchy. Also, I myself was so fanstruck at the time! The one-on-one (and later, two-on-one, when John finally checked his phone) nature of this conversation was an absolute delight. He even paid for my lunch! :D

We chatted about anything and everything: our favourite new-series Doctors (Jim: 9, me: 10), the lolcat phenomenon, comic book trailers, awful Sci-Fi Channel movies (and the Butcher family tradition of Shannon and J.J. tearing down the movie, and Jim attempting to defend it as the Best Movie Ever), the awesomeness of Ray Park and the great loss to our culture suffered at the absence of a Toad/Nightcrawler fight in X2, why on earth political figures go on the Daily Show and the Colbert Report, something that happens in a future Dresden book that will cause the entire fandom's head to explode, oh my god... You know, the usual.

He also signed John's orange box knife for use in my

new Butcher 'Spress podcast logo

. As the daddy podcast, The Butcher Block, uses an actual signed butcher block, I felt the box knife surrounded by pizza was appropriate (both are associated with the fan-favourite Dresden character Toot-toot, a faerie who occasionally provides Harry with information--not a bad mascot for a news podcast). Then we gave the camera our best

skeptical eyebrows

and headed off to explore the con floor together! Eventually, around 1:30, John and I returned him safe and sound to the Dabel Table (this is more clever when you note that "Dabel" and "Table" rhyme) so he could prepare for the Dabel Bros' panel at 2.

On my way down to the panel, I ran into my friend Kevin, who was dressed as his beloved character Unemployed Skeletor in preparation for the Masters of the Universe panel. We vowed to find some opportunity to hang out soon, as we never see each other and that is lame.

The Dabel panel was quite nifty. Afterwards, I went to a panel on making it as a voice actor, then John and I resumed our floor-meandering ways. I went by the CNI table to see Jimmy's new hair, which looks great! I was terrified he'd do something short and unJimmylike, but his hair was so long that they were able to cut SIXTEEN INCHES, and his hair still brushed his shoulders. He seemed still somewhat traumatized, but I tried to assure him his Samsonlike powers had not been diminished. YOU ARE A HERO TO CANCERKIDS EVERYWHERE, JIMMY! THANK YOU!

Around 5, we looped back around to the Dabel Table for the signing with Jim and Dresden cover artist Chris McGrath. Chris and I got to chatting, and it turns out we live five blocks away from each other! Crazy!

We then dawdled around until it was time for the Great Podcasting Dinner! Unfortunately, my table was not a particularly energetic one, and John and I ended up leaving earlier than I'd predicted, both exhausted. Suckage.

Sunday, I dressed up as Maeve, which wasn't a great idea. I'd forgotten how awkward that huge wig is and how easily tangled those sequin strings yet. It's a great costume for a small event, but it's not something to wear at a huge con. I got quickly overheated under the weight of the wig and the claustrophobic crowd, and I ended up keeping the wig off for most of the time. I finally met up with Kristin--we'd kept just missing each other all weekend--and she was jokingly cross at me for wearing a costume she'd already seen, as she'd been looking forward to seeing Delirium. We cruised the floor once more, on the lookout for any droolworthy Doctor Who and BSG merch, and I ended up with a Kittens With Cupcakes bag and a 12" action figure of Jack from Nightmare Before Christmas (with mini PVC Mayor and Werewolf).

Kristin: I don't get the Green Arrow. On a team where you already have Batman, Superman, and Wonder Woman, what do you need an archer for?

John: Well, he was rich...

Kristin: You think he bought his way on to the Justice League?

Me: His daddy bought everyone on the team Nimbus 2001s.

We spent the rest of the afternoon chilling at the CNI booth. At closing time, we helped Jimmy pack up, then Kristin, John, and I went off in search of California Pizza Kitchen. Yum! The evening was spent watching episodes of "Wonderfalls" and "Pushing Daisies." All in all, an AWESOME experience.

It's great to be a

geek

. :D

Labels: cons, costuming, geekery, jim butcher, new york is awesome, podcasts


Priscilla said at 3:46 PM
2 comments




Friday, March 28, 2008

---

No idea why the images are showing up so desaturated, but...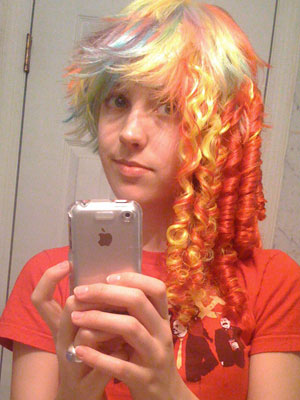 Got the wefts pinned in! I'll do a bit more styling, separating the ringlets a bit to make them look more like cute spirals than solid cylinders and dragging them out a bit so they're a little longer. And I think I'll use smaller safety pins, so they don't start to peek out if the hair shifts the wrong way.

Pics:

Side View

,

Larger Version of Above

, and

Me Being a Total Ham

!

Labels: costuming


Priscilla said at 12:28 AM
2 comments




Sunday, March 23, 2008

---





HAHAHA, WIN!

Whereas I spent months searching for the perfect elements for my Nightcrawler and Maeve costumes, I found the perfect Delirium coat and dress in TEN MINUTES of shopping. Triumph, she is mine! Peek-choors:

01

,

02

, and

03

.

I've only put in one of four hair wefts so far, so the extensions will look pretty sparse here. It will look much more wild and full when I'm finished, and the extensions will start higher up on the head, so they look more integrated with the wig and less tacked-on.

Anyway, I love that hideous dress! Turns out the thrift store shopkeeper got it in yesterday, so good timing me! And apart from the shoulders, where it gets a big large, it fits me like a glove. It couldn't fit the bodice and waist and stuff better if I had it tailored. And the top part doesn't bother me. When has Delirium ever worn clothes that fit her?

Labels: costuming


Priscilla said at 3:18 PM
2 comments




Sunday, March 16, 2008

---

Woo, finished the dye job on my Delirium wig! Nice to know that if I can't get the extensions to look right, it'll still look totally awesome without them!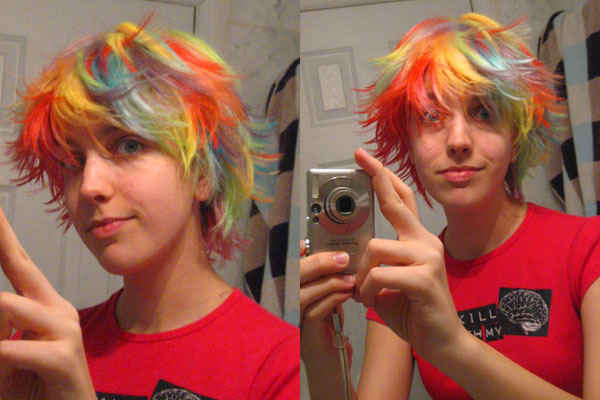 Now, time to play some more...

Okay, time to go to sleep. But when I wake up, it'll be time to play some more! I shall dream of playing. Take that!

Labels: costuming


Priscilla said at 1:05 AM
5 comments




Thursday, March 13, 2008

---

EEEEEEEEEEEE
NEIL GAIMAIN IS COMING TO NEW YORK COMIC CON
!!!!
This makes my choice to make a Delirium costume even more perfect.
And wow, what a perfect opportunity to squee about the current state of my wig!
My success
with the
Maeve wig
gave me great confidence, and I'm taking another leap in wig making ambition!
As Delirium looks different every time she appears in the
Sandman
series, I'm not worried about perfectly recreating a specific look, so long as I get the general vibe right. My main inspiration is
this image
. I loved the idea of having one side very short and one side long and curly! My short side will be longer than hers, as I have no desire to buzz my head, but it's the same general idea. Mine will be short, scruffy, and dyed in a rainbow of colors on one side, then long, curly, and a blend of bright red and dark cherry red with sporadic yellow accents on the other side. The fiber for the extensions hasn't arrived yet (it should have arrived yesterday, boo. Maybe today?), but I won't be able to actually sew the wefts I make into the wig until I finish the dye job anyway. The dye job will take several more sessions to complete, as I can only dye small amounts at a time to avoid the colors mixing and looking muddy and gross.
Anyway, pictures! Here's how it looked on me
the day before yesterday
, but did a LOT last night, and here's where we are now:
side
,
front
, and
3/4 view
. The color is getting a bit too chunky for my taste towards the back--I prefer the more feathery look of the bangs. Fortunately, it'll be a really easy fix to add in some steaks of color to break them up. I looooooooooove
this dye recipe
!
I'm still working out what I want to do for the costume itself. The big, shapeless coat is a must, but I want the costume beneath it to be solid on its own, in case I get too hot at the con. Tattered fishnets are a must, but my Molly costume brought home that once I start the tear, I have no idea how to keep them from falling apart completely. With Molly, what started out as artistically ripped fishnets that morning ended the day as an unwearable, shredded mess. I'm sure there's something obvious I'm missing. Can anyone provide insight?
As far as shoes are concerned, I'm considering a few alternatives:
1) Nasty old boots,
2) Ridiculous sparkly gold shoes I saw in a thrift store that were actually in my size and I can't believe I didn't get them,
3) A nasty old boot on one foot and a sparkly gold shoe on the other provided the height difference wasn't noticable, or
4) Galoshes.
Think I could be comfortable walking around a con in galoshes all day? Or would my feet get sweaty and gross? I haven't worn galoshes since I was ikkle and wee. Anyway, I'm currently leaning towards #3. I'll have to go back to that thrift store and see if those ridiculous gold shoes are still there. I might also have to revisit that awesome $5 shoe place where I got my Maeve shoes. I'm amazed at how well those things have held up!
And that's all I have to say about that. Except...
Fans of
Sandman
series should probably put down their drinks at this point, as not to end up with a keyboard full of Dr. Pepper. Ganked from moony's LJ.
In totally unrelated news, signups for the

Dresden Files ficathon

close Monday. Don't forget!

Labels: costuming, neil gaiman, obama is awesomesauce


Priscilla said at 9:19 AM
3 comments




Sunday, October 07, 2007

---





I'm back from PhauxCon! I had such an amazing time, and I'm already teasing out ideas for a panel next year. I was lucky enough to meet Jim Butcher (author of The Dresden Files) at NY Comic Con last year and found him to be all the things you'd hope a favourite author would be in real life: affable and funny and down-to-earth. But getting to hang out with him and his wife Shannon (also a published author) in such a relaxed atmosphere was an entirely different dynamic! The Butchers are such great people, and they're even more fun when they're not exhausted and stressed out by the grind of a huge convention or a signing tour!

Friday night, we watched the unaired, 67-minute Dresden pilot, and Jim merrily heckled the entire thing. It was

HILARIOUS

. Heckling bad Sci-Fi channel movies is a tradition in the Butcher household, and the incomplete special effects and temporary voice overs in the pilot made for a lot of easy jokes. One of Jim's running comments was to repeat the text of the cards on the temporary effects in an excited tone with "Trust Us!" added, like "Bianca's face is burned! Trust us!" He also shared a bunch of cool behind-the-scenes facts about the series, such as "This is where the stunt guy broke both his legs." Poor stunt guy.

Saturday, Jim and Shannon each did a Q&A session, and as many of the attendees are writers, they were able to share their experience dealing with the writing process with us. Shannon wore my Maeve tiara during hers, as she is Queen of Estonia. Jim also talked about his experience with the various Dresden media spinoffs--the TV show, the comic, and a few potential projects on the horizon. Coooooool!

The other panels were excellent. Steph continued her "Flashcard Fandom" tradition with

Torchwood

, Deb made an extraordinary presentation I wish I'd recorded on public perception of fandom, Nikki talked about anti-heroes (and why we love them), Steph and Eurydice talked about the transition from fan fic to pro fic, and another woman whose name begins with an L but completely escapes me talked about the significance of alleys in

Buffy

and

Angel

. It was fascinating stuff, and it generated some great discussions!

At the three dining events, the Butchers joined us in geeking out over various nerdy pursuits and regaled us with stories about their son, J.J., who is quite clearly the coolest kid in the history of the universe (and is also goin' to Utah!). At the signing, Xionin gave Jim a set of the

Serenity Alliance Currency Money Pack

that hadn't sold in the silent auction, and he joked about "Gettin' paid in cashy money," quoting Mal, then amended this statement to "Gettin' paid in cash and coke," referring to the seemingly bottomless supply of Coca-Cola Xionin provided for him. I took home the other money pack and the Tenth Doctor and K9 action figure set. Now Ten and Illyria and the cast of Mirrormask can have wacky escapades on my desk at work!

The Shindig was all kinds of fun. As readers of my blog know, I came as Maeve, and I was delighted at how well it turned out! I got all kinds of praise from both Jim and the other con-goers. Most of the group didn't come in costume, but we did get a wonderful Michael, a Charity, a hybrid book cover/TV Harry, a vampire, a 70's dude, and a pair of ladies in Ren Fest attire. Jim joked that was dressed as Dr. Chao, the cameo character he played on the TV show. He showed us concept art from the upcoming comic (including some images I hadn't seen yet!) and read from one of the Dresden books, doing so in the most energetic, geeky, delighted voice imaginable. He was having SO MUCH FUN as he read to us, and we laughed and cheered and winced right along with him. It was like reading it again for the first time! Crazy fun. A splendid time was had by all!

I'm mostly relying on Xionin and Rob for photos, but here are a few that were taken with my camera:

Me and JimMe, Jim, and Rob

A very blurry shot of

our Carpenter couple

And here's

the wig alone

again, as I am so freaking proud of how it turned out!

I'll post more pictures (and a link to the video of Jim's Q&A session) as soon as they're available. Hopefully Xio and Rob will upload them sometime this week, after they recover from the con and perhaps take a three-day nap. :D And note that Jim and Rob are not short, I'm just wearing six inch platforms, making me 6'3"! And I didn't break an ankle! Win!

I have no hat, so I will say that my wig is off to Xionin for putting together an absolutely extraordinary con experience. I'm in awe of all the work she does for PhauxCon, and I'm so grateful. I had such a blast! Love to all the returning members, and I hope I can hang out with some of you again before PhauxCon 6!

Labels: costuming, dresden files, jim butcher, nerd glee, phauxcon


Priscilla said at 5:35 PM
5 comments




Monday, October 01, 2007

---





EEEE! I just found out last night that

Terry Pratchett

is going to be at the Union Square B&N tonight! And I have permission to get off work early! TRIUMPH!

So. Saturday and Sunday, my friend El came to visit! For her 18th birthday, she went to see Drew Sarich, one of her favourite actors, playing Valjean in

Les Miserables

. All was merry! We had great adventures with nonexistent transportation and both got a pair of the most ridiculous shoes ever.

I'm kind of obsessed with the shoes, and they would actually work really, really well with my Maeve costume, so I'm currently debating between them and my Docs. They're clear plastic 6" platform heels--making me 6'3"--with sparkly green accents, and they are SO MAEVE IT HURTS. I'll bring both alternatives with me to Philly and decide there.

Speaking of Maeve, I finished the wig last night! Well, I might actually bleach some of the brighter strands a touch whiter, as it's gotten a bit too far away from the glacier look, but... EEE! Pretty! See

here

and

here

. I love the tacky tiara--It

makes

the wig! I found it in a box of equally tacky tiaras, probably intended for Daddy's Little Princess's quinceanera. A bunch of them actually had a "15" in rhinestones. I love it!

And the tackiness of the tiara and the potential shoes nicely offsets the elegance of the toga top, and everything comes together beautifully. When I first set out to put the costume together, I was worried that the costume wouldn't have the vibe and personality it needed, but I see now that my fears were completely unfounded.

Now I need to figure out some kind of crazy knitting project that will allow me to use all my leftover yarn. It's so pretty, I can't just let it collect dust in my closet!

Labels: costuming, dresden files, meeting online friends


Priscilla said at 10:53 AM
4 comments




Friday, September 28, 2007

---





GUH. Just started adding the mohair to the Maeve wig, and it looks awesome! Ooh, I wish I'd gone with mohair entirely rather than starting with the

Point Five

. It looks so much more dreadlock-y and awesome, all felted to itself. Inspired by this look, I'm gently untwisting and separating the Point Five, then re-twisting it in chunks with a few strands of mohair to make it look a bit more dread-y. It looks way better already! Squeeeee, one week until PhauxCon!

Labels: costuming, dresden files


Priscilla said at 9:52 PM
0 comments








More progress on Maeve!

I have no idea why these look so desaturated. You totally lose the cool, subtle blue-green glow of the wig hair! And the pinkish yarn is actually closer to a dark beige. They looked fine in photoshop! Ah well. I currently have about a third of the head wool-ized, though I'll be going back and adding more of the blue-purple-black yarn in the lower layers to get the general color range a bit closer to the intended vibe. The other side is still the wig hair only, without the added woolly goodness.

Soooooo excited. Though I need to figure out what to do with the bangs so I don't look like an anime character!

(And woo, Charlex t-shirt! My company's parent company, for the win!)

Labels: costuming, dresden files


Priscilla said at 12:22 AM
2 comments




Thursday, September 27, 2007

---





WOOHOO! I just finished dreading the Maeve wig! A full head of 37" hair, all without incurring a repetitive stress injury! WIN!

Labels: costuming, dresden files


Priscilla said at 1:30 AM
0 comments




Tuesday, September 25, 2007

---





Some Maeve pics!

The hair dye job!

This is the only shot I could get the colors to look reasonably accurate. It's much lighter than one might expect from her description in the book to compensate for the darker colors of wool I'll be adding in. Anyway, it looks so cool in real life! When it's in shadow, the sea green practically glows.

My nails afterwards

, AFTER scrubbing at them for five minutes.

First progress shot

of the dreads and some wool added in, taken Sunday evening.

What it looks like now

, with all the "done" dreads pinned up out of the way and all the remaining hair still down. *wibbles and clutches poor, aching arm*

Another angle

showing all the dreads I've done so far, which might explain the wrist-twingeing.

Labels: costuming, dresden files


Priscilla said at 12:54 AM
2 comments




Sunday, September 23, 2007

---





I dyed my Maeve wig this morning, and ZOMG GORGEOUS. It's currently a blend of pale blue, delicious sea green, and the base white. As are my bathtub and fingernails. I almost don't want to dread it and add the wool! Of course, then I look again at the wool and gurgle a bit at the prospect of how pretty it shall be...

Good lord I love costuming. And now that I am a master at dyeing wigs, I can attempt Molly again, should the opportunity present itself!


Priscilla said at 4:28 PM
1 comments




Friday, September 14, 2007

---





So! Catching up.

I'm almost done with living out of suitcases! My last piece of furniture, a chest of drawers, will arrive this Sunday. This past weekend, I gained a desk, a headboard, a bookshelf, and a massive TV and a lovely dinner table for the common room. WIN!

While I wasn't waiting for stuff to get delivered this weekend, I was tromping up and down the city looking for clothes and ideas for a new costume. A new costume! I have a goal! Time has meaning! For

PhauxCon

's McAnally's Costume Shindig, I'm going as Maeve, the Winter Lady from The Dresden Files. Ever since I first read her description in

Summer Night

, I've longed to make her costume, and now I'm going to!

The chief draw is the wig I'm going to make: "Her hair had been bound into long dreadlocks, each of them dyed a different shade, ranging from a deep lavender to pale blues and greens to pure white, so that it almost seemed that her hair had been formed from glacial ice."

*gurgles*

I just got the base wig last night--waist-length and white with long bangs--and it's so pretty that I almost feel bad that I'm going to dred the heck out of it. Ah well! It's going to be aaaaaawesome when it's done! I bought three skeins of gorgeous Colinette wool yarn, dyed just the way I picture Maeve's hair to be:

one

,

two

, and

three

.

Her general attire is a bit skankier than I want to play her, so it'll be a challenge to design a new outfit for her. I found a gorgeous, subtly shiny, ice-blue pashmina wrap that I'm going to pin strategically to a bra and wear like a draped, toga-ish top. Not sure how to better explain it, but it looks fantastic.

As for the bottom... no clue. Massive combat boots or tall Doc Marten-y type boots are a must, because that's just the kind of

person

Sidhe she is. I like the idea of a blue camo miniskirt with white fishnets or sexy, similarly patterned cargo pants, but I've been so far unable to find anything that fits this mental image. I have a few leads to pursue this weekend, though, so I might not have to give up on this concept. The big challenge is finding something that works with the elegance of the top, but also expresses her rebellious, punkish, sexy attitude.

Then there will be white/silver mascara and crazy eye makeup and maybe some sort of body painting involved, depending on how much time I'm going to have to get ready.

Speaking of

PhauxCon

, today is the last day of Early Bird Registration! After midnight tonight, the price will go up from $50 to $60. Then after October 4th, any remaining tickets will be sold at the door for $70. Registration is also open for Friday's dinner with Jim and Shannon Butcher and Sunday's writers' brunch. Details in

the LJ

!

I leave you with a fantastic BSG crackvid to Flight of the Conchords'

The Humans Are Dead

. YES.

Labels: bsg, costuming, dresden files, flight of the conchords, moving, phauxcon


Priscilla said at 11:07 AM
1 comments




Sunday, July 22, 2007

---





I posted pictures from the Union Square Book 7 Release in my LJ

here

! Spoiler-free!

And can someone please link me to the "spoilery" New York Times article? I want to read it and decide for myself.

Labels: costuming, harry potter


Priscilla said at 9:28 PM
3 comments






All content © 2000-2005 Priscilla Spencer unless otherwise noted.
Title cartoon by Bruce Eric Kaplan, used without permission.